Seeing as 2022 is coming to a close, I've chosen to start reflecting on the year by looking back on my favorite movies that came out.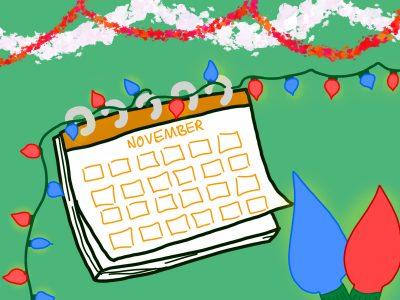 "Everything Everywhere All At Once"
"Everything Everywhere All At Once" is one of the best movies I have ever seen in my life. 
An eye-popping, head-spinning, existentialist merry-go-round of scenes had me laughing one minute, and hyperventilating in anguish the next. It's nothing short of a masterpiece. Written and directed by Daniel Kwan and Daniel Scheinert, or the Daniels, it tells the story of Chinese immigrant Evelyn Wang — played by the legendary Michelle Yeoh — who, alongside her husband, Waymond (Ke Huy Quan), struggles to keep their laundromat afloat, submit taxes, impress her father and reconcile with her daughter. 
The maximalist editing is the perfect mechanism through which the film's emotional thread is woven. It touches on everything from generational trauma to the overwhelming forces of grief and regret. The outward chaos of the multiverse is an extension — not an imagination — of the internal turmoil the characters endure. The comedic stylings of the Daniels was the perfect way to lower my guard — leaving me exposed as humor slowly transformed into melancholy. 
Evelyn and her family venture through the metaphysical in a desperate attempt to grasp who they were, who they are and who they can be in the end — a metamorphosis so powerful that I left the theater a completely different person. If there's one film you see this year, please let it be this one.
 "Aftersun"
 There comes a time in everyone's lives when we discover that our parents are complex individuals. It's this transitory moment that's captured in Charlotte Well's debut film "Aftersun," whose story focuses on a father-daughter vacation between Sophia, played by Frankie Corio, and Calum, played by Paul Mescal. 
Overall, this film consists of mostly happy moments between the two. However, amidst the blue skies and fruity drinks, lies a gentle hum of depression — the soft reminder that none of this can last forever. This state of fluid suspension, emphasized by Sophie's low-quality digital camera, constructs the film's aura of tender nostalgia and reflection. 
Eleven-year-old Sophie is just beginning to discover who she is, while Calum, who's young enough to be mistaken for Sophie's older brother, is struggling to reckon with what his life has become. His depression is shown in brief moments. One moment, he's swaying and smoking alone on a balcony. In another, he passively comments that he can't believe he's made it to thirty. 
It's the placement of these scenes between relatively normal interactions, ones where the camera slowly pans and forces you to give yourself up, that gives this film such power. It builds up so slowly and hits you so softly, that by the time the credits rolled, I found myself wiping tears from my eyes that I couldn't remember shedding. 
It breaks my heart to know that most moviegoers won't get the chance to see this film, because I can certainly say I'm better off for it.
"The Banshees of Inisherin"
Martin McDonagh's "The Banshees of Inisherin" is a 20th century break up story set in the heavenly Irish countryside that sets out to answer one of life's most infernal questions: Is it possible, after 25 years in the industry, to fall even more in love with Colin Farrell? My answer is a resounding yes.
A tragicomedy set against the backdrop of the Irish civil war, the booms of cannon fire accompany a score full of the charismatic lilts of traditional Irish music — much of which is played by Colm (Brendan Gleeson) — an old man who's realizing that life has passed him by. 
In this depression, he decides to end his friendship with Pádraic, known as Paddy, played by Colin Farrell. This seemingly simple action slowly erupts from internal unrest between Paddy and Colm into outward chaos. Paddy's disposition disallows him from accepting his fate. 
In his constant attempts to maintain this relationship, the film became so heartbreaking I experienced near physical pain. From severed fingers, drunken sobs and the sweet brays of a particularly darling donkey named Jenny, this film challenges us to ponder the value of simple kindness, and the extent one will go to in establishing meaning to their life. 
"Decision to Leave"
Park Chan-wook's, "Decision to Leave" is a beautifully told noir thriller focused on a cat-and-mouse game between insomniac detective, Jang Hae-jun, played by Hae-il Park, and esoteric murder suspect Seo-rae, played by Tang Wei. Definitely the most romantic film of the year, Park Chan-Wook's masterful directing weaves a powerful story of love and mystery that I implore you to watch in theaters as soon as possible.
"The Northman"
You cannot show me a historically accurate, bloodthirsty, mythological Viking epic that is full of witchcraft and lore, directed by Robert Eggers, and expect me not to love it. "The Northman" tells a story that's relatively familiar: a young prince named Amleth, played by Alexander Skarsgård, must avenge the murder of his father (Ethan Hawke) and his mother's kidnapping (Nicole Kidman) by his traitorous uncle Fjölnir, played by Claes Bang. 
With stellar performance from a brilliant cast, this film masterfully paints a portrait of a man driven by violent justice in a cruel world, and the consequences he must bear throughout his journey.