The City Hall Plaza, an outdoor area in Government Center, will have a grand reopening on Nov. 18, according to a City of Boston press release.
The reopening will begin with a ribbon cutting ceremony along with live entertainment and a tour of the new seven-acre area.
"City Hall Plaza is a space to bring people together and build community," Mayor Michelle Wu said in the press release. "I'm grateful for the work of all our City workers and partners to transform the plaza into a welcoming, resilient and accessible space for residents and visitors to enjoy."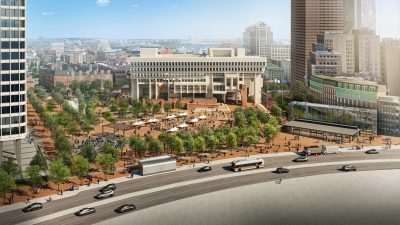 Former Mayor Marty Walsh announced plans to renovate the space in June 2019 in order to update public facilities, increase accessibility and create environmental sustainability. Construction began in July 2020 and Wu announced its completion on Nov. 10.
The $95 million invested in Phase 1 of the project went toward building 12,000 feet of children's playscape, 11,000 feet of terraces and several event and gathering spaces and "plug and play" locations for community artists. These renovations will allow an estimated 10,000 to 12,000 visitors on the main Plaza.
"Having the additional trees, the benches, the ability for musicians to plug in and do performances in a lot of different corners of the square whereas before they really couldn't in most parts of the plaza," City Councilor Kenzie Bok said. "I just think it's going to activate it and really welcome people of all ages."
To address problems with accessibility, the City repaved uneven bricks, minimized stairs and reopened the north entrance, making the second floor of City Hall easily accessible. 
Bok said she walks to City Hall every day, and believes the new walkway connecting Cambridge Street to Congress Street will make City Hall "much easier to access."
"The plaza has actually been closed for construction my entire time on the City Council," said Bok. "It's thrilling to actually get to use it again, and especially exciting (is) just all the changes that I think are gonna make it a better civic space."
The City's Operations Cabinet worked alongside architecture and design firm Sasaki and construction management firm Shawmut Design and Construction. 
"We conducted a robust community engagement process to make sure that the space is dynamic and accessible to all," wrote Mauricio Gomez, Sasaki senior associate landscape architect, in an email. "It's a new front yard for the city, and we're excited to see it come to life on Friday."
Another feature of the reconstruction will be public art commissions by sculptor Rhea Vedro and 2D graphic artist Yuke Li. Li said she heard about the opportunity from a friend.
"I am very grateful for this opportunity of presenting my thoughts and artwork to all visitors and residents in Boston," Li wrote in an email. "It was an installation for one wall at first, and I was excited that the project extended to two walls."
The renovations will also make the plaza more environmentally sustainable, adding 100 trees and permeable surfaces to retain stormwater. Plaza construction also utilized recycled brick and pavement.
"There's actually even more than meets the eye in this (project)," Bok said. "It's really been a bit of an engineering feat to get this done."
Somerville resident Olin Goudey said he will likely come to the plaza more often after it officially opens.
"I like all the green space and the trees and it's a huge improvement from all the pavement," Goudey said. "I think it will be another great addition to the green space of the city."