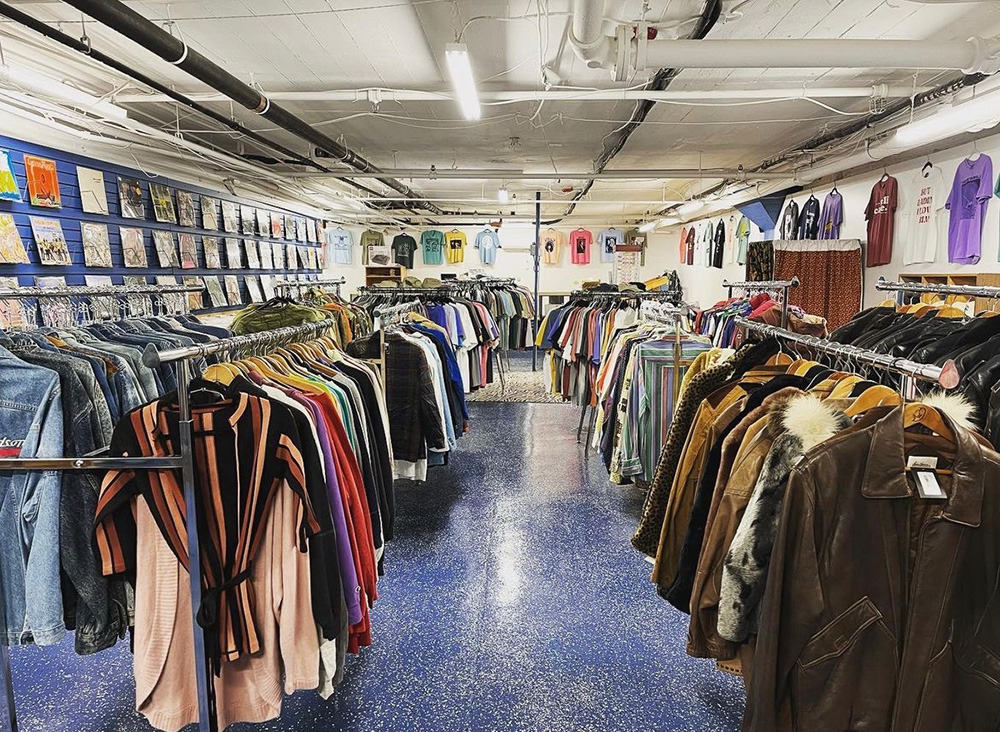 Is the Frank Ocean shirt from Hot Topic too ubiquitous? Have you ever wanted an item or piece of clothing that no one else has?
Just half a block from Agganis Arena and next to Raising Cane's, there's a building with an ATM inside. But if you take a walk down the stairs at 957 Commonwealth Avenue, you'll find not a bank, but a world of records, posters, books and vintage clothing.
This is the Vintage Underground, which opened last month — the newest addition to the Boston vintage clothing and retro knick knacks scene.
"It's just a fun place for people to find things that they think might be interesting," said owner Bob Perry. "We just throw a lot of things people like into a space and hope it works."
The storefront location — which was formerly occupied by In Your Ear Records for over 30 years — boasts a longstanding history of music at its roots. Perry, also the owner of Cheapo Records in Cambridge said they carry a wide range of vinyl.
When In Your Ear announced its closing in order to downsize to just its Rhode Island location, Perry's attachment drove him to find renaissance for the once classic record store to carry on its legacy.
"I'm a record store guy," Perry said. "The store that was in this location [was] a place I had been a customer of and a supplier of for, I feel like, my whole life."
Sales clerk Rosalind Deaderick said the new store is a collaboration between Cheapo Records and vintage shop Vivant Vintage. While Cheapo Records primarily sells vinyl and CDs, Perry said, the Vintage Underground carries a vast collection of finds.
The Vintage Underground's range in inventory aims to cater to another audience — the Boston University community.
"We wanted to tap into the BU student population," Perry said, as he sliced band t-shirts to fit the crop top trend of the audience his store is trying to appeal to. "It's in a great area."
However, Perry said, the store, being quite literally below-ground, lacks the same conspicuousness a typical storefront holds.
"We don't have the visibility on the street that some other stores have," Perry said. "But we hope that over time, we can develop a following and people will seek us out."
Ezra Petrillo, vinyl inventory manager at the store, said they think it's taking a while for people to realize that it isn't the previous record store anymore.
"People at BU who may enjoy the stuff that's here … haven't quite learned that it's different now," Petrillo said. "We're trying to do some Instagram ads and stuff … but in the meantime, it's been a little slow."
The floors, ceilings and paint were "revamped" to be much cleaner and organized, Deaderick said, a stark contrast from the grunge atmosphere of In Your Ear Records.
"It's a much newer type of vibe now," Deaderick said. "I think people were bummed that kind of character was gone, but we're trying to build that character back up."
Perry said it was "modernized."
"It was in pretty difficult condition when we got it," he said. "It had been run down over the years."
Nonetheless, the Vintage Underground has developed a following using its pop-up shops in Snowport, the holiday market in Boston's Seaport District and the racks outside the store, promoting shoppers to take a walk downstairs.
Deaderick said they try to make the store as "relaxed" as possible.
"We always have music going," she said, "so that people come in, and they want to spend time in here and they want to come back."