The Boston University women's basketball team won 73-65 after a strong second half against Merrimack College in their first game back home since Nov. 23.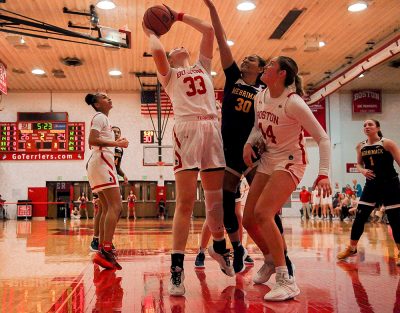 The Terriers (5-4) took the lead on junior guard Kelsi Mingo's 3-pointer with just under six minutes left in the half and never looked back. The win gave BU their third consecutive victory at The Roof and bumped their record back over the .500 mark. Merrimack (1-7) suffered their third straight loss.
"(We) just like having the home court advantage (with) our band, our fans," senior guard Maggie Pina said. "It's good to play at home."
Pina posted 11 points and four assists in 25 minutes, including three 3-pointers. She credits the increase in assists to learning BU's offensive system better after adjusting to a new coaching staff last season.
The Terriers capitalized on good ball movement, with four players scoring in the double-digits and seven different players scoring at least seven points.
"I think our offense looked really, really good tonight, shooting 50% from the floor," said head coach Melissa Graves. "I really loved the effort on that side of the floor, particularly tonight."
BU senior forward Maren Durant put up 11 points and led the team with 12 rebounds. She also led the team with five assists in 29 minutes on the court.
"Last year she really started to grow in that (assists) area," said Graves. "This year, she's really emerging."
In the first half, BU made 5 of 14 threes. The Terriers remained efficient in the second half, knocking down 66.7% from behind the arc and outscored Merrimack 39-31.
"It was pretty slow to start, but once we started running up the floor and finding in and then out, it gave us some pretty open shots," Pina said.
BU senior guard Liz Shean accounted for three of those 3-pointers, adding 11 points off the bench. She recorded two assists to round out her offensive performance.
The Terriers' defense also performed well, holding the Warriors to a 39.4% field goal percentage.
Despite BU's stout defense, Merrimack redshirt senior forward Marissa Hamilton managed to put up a game-high 20 points. She limped off the court with just over a minute left in the third quarter, but eventually returned to the game.
Merrimack senior guard Jayme DeCesare also put together a good game with nine points, three rebounds and two steals.
"Really great team win. I'm really proud of the effort from the entire team," said Graves. "Everyone who stepped onto the floor was able to score the basketball."
The Terriers look to continue their winning ways against Yale University in New Haven next Tuesday at 4 p.m.