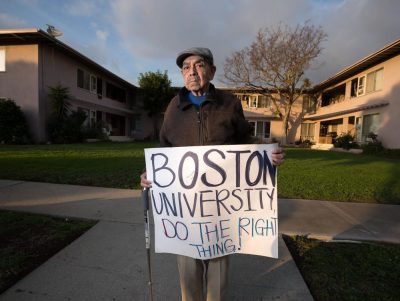 Boston University, who gained ownership of four apartment complexes in Los Angeles last year, agreed to sell the buildings to the Liberty Community Land Trust on Jan. 10, allowing residents to collectively own their homes.
Over 130 residents live in the four buildings, located on Corbett Street and Clemson Street in Baldwin Hills, and were at risk of being evicted after the properties were given to the University through the will of Frederick S. Pardee, a real estate investor and notable BU alumni.
Jose Lopez, a Corbett-Clemson tenant who has lived there for 20 years, knew change was coming upon hearing of Pardee's death. 
"I immediately knew what that meant," said Lopez. "That means that somebody is going to get this property and it's not going to be good for us."
Lopez and his partner, Denisse Ocampo, created Instagram, Twitter and TikTok accounts after learning that BU hired a broker to sell the buildings to for-profit buyers and to avoid the possibility of being displaced.
"We figured that Instagram was probably the best avenue to take … considering that Boston University is a well-known institution and considering also that LA is going through a housing crisis," said Ocampo. "We just felt like this is really important news that people need to know about."
The tenants worked with the Liberty Community Land Trust to negotiate offers with the University. A community land trust is a non-profit organization that aims to benefit its low-income tenants through maintaining affordable housing, according to the California Community Land Trust Network.
"(It's an) occupant, resident-run, housing ownership scheme where they find these units and, instead of seeking to make as much money off of them as they can, the goal is to give people stable housing, make sure people are cared for," said Max Dubler, communications manager at Abundant Housing LA.
BU initially only offered to sell three of the four apartment buildings to the community land trust, according to a Jan. 8 Corbett Tenants Instagram post. Ocampo said the building where she and Lopez live was not a part of that initial agreement.
"No one wanted to do any celebration," Lopez said. "They (the tenants) didn't feel comfortable. If anything, they felt kind of guilty that they would enjoy such a situation while we were in danger, and that was very human of them."
Aarohi Goel, a junior in the College of Arts and Sciences and vice president of Young Democratic-Socialists of America at BU, found out about the Corbett-Clemson tenants through her membership with the Greater Boston Tenants Union. The club created an email campaign to help spread the word.
"We believe that housing is a human right, and that these people deserve to stay in their homes," Goel said. "It was only right for the University to consider and actually go through with meeting these tenants and selling their homes to them."
Ocampo said the support from BU students helped spread their posts and get the attention of the University. 
"That made us happy," said Ocampo. "That made us feel like we had some people in Boston University on our corner."
Lopez, who currently lives with Ocampo and his 94-year-old father Jorge Lopez, said he has lived in LA for the majority of his life but believes more needs to be done to preserve the city's culture.
"I believe that we have a right to our roots," Lopez said. "There has to be more policies that guarantee we have a right to our cities and our communities, that we have a right to the resources that exist here."