The Boston University women's basketball team collected their eighth-straight conference victory on Saturday with a 65-57 win against Loyola University Maryland. The Terriers' (13-6, 8-0 Patriot League) eight-game conference win streak is their first in program history since joining the Patriot League.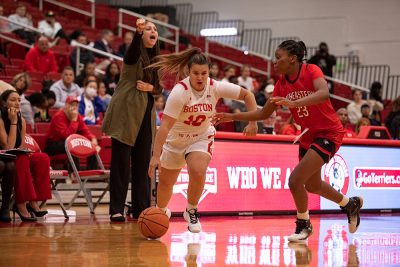 "It was really a really hard-fought win," said head coach Melissa Graves. "We started the game really well and well enough to make a statement for the rest of the game."
The Terriers started hot, scoring 20 points in the first quarter. The Greyhounds (7-12, 2-6 PL) shrank the lead in the second and third quarters, but the Terriers went on several scoring runs to stay ahead of Loyola. 
Junior forward Caitlin Weimar scored 13 points, ten of which came in the first quarter. Graves praised Weimar's performance, saying she "hasn't missed a beat" despite missing a few games earlier this season.
Senior guard Sydney Johnson led the Terriers in scoring, posting 21 points to go along with three assists and five steals. The game marked the 12th in Johnson's career in which she scored 20 or more points.
"She just took over at times, especially at the end of the game," Graves said. "She's someone who we can really trust to control the pace of the game."
The Terriers' defense held strong, preventing Greyhound sophomore forward Lex Therien and graduate student guard Taleah Dixon from scoring inside the paint and holding Loyola's three-point percentage to just 29.4%. Weimar and senior forward Maren Durant locked up the paint, recording three blocks each. 
Graves emphasized contesting Therien and Dixon at the rim and preventing offensive rebounds.
"(Therien and Dixon) got out a little bit, and they were able to score for (Loyola), but they did the majority of (Loyola's) scoring, so we were able to hold other people more in check too," Graves said.
BU played an efficient and controlled game through all four quarters, holding the lead throughout the entire contest and preventing Loyola's best players from dominating the game. With the win, the Terriers remain tied with the College of the Holy Cross for first place in Patriot League standings.
The Terriers look to continue their winning streak as they take on Colgate University on Wednesday at 7 p.m.