Although shaky at times, the Boston University men's hockey team managed to capture their third Hockey East weekend sweep of the season against the University of Maine. The Terriers (17-6-0, 11-4-0 Hockey East) struggled defensively without senior defenseman and captain Domenick Fensore but pulled away from the Black Bears (9-12-2, 3-8-1 HE) in the third period with a 9-6 win.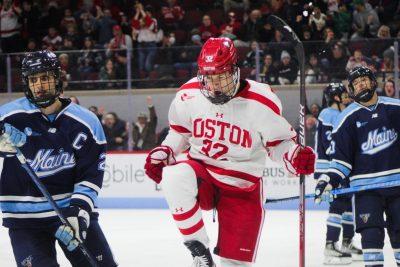 Fensore's absence was noticeable, as neither junior goaltender Drew Commesso nor the Terriers' blueline did themselves any favors. The two sides found themselves locked in a back-and-forth, high-scoring affair comparable to this season's sole Battle of Comm Ave. –– Boston College's 9-6 victory over BU in December.
The newly-cemented top line of senior forwards Matt Brown and Wilmer Skoog as well as freshman forward Devin Kaplan continued its dominant weekend for most of the first period. The trio combined for eight points, producing three of the Terriers' four first-period goals at five-on-five.
"That line has clearly found some chemistry," said head coach Jay Pandolfo.
Skoog opened the scoring just 36 seconds into the opening frame, collecting an ankle-breaking tally.
Just under four minutes later, Skoog doubled his scoring output. The red-hot center changed his angle and wired home a wrister from the left circle to collect his ninth goal of the year. Ever since the turn of the Thanksgiving break, Skoog has collected 16 points in the 11-game span.
"(Skoog)'s been excellent," Pandolfo said. "He seems like he's having some fun. When the puck starts going in, you start feeling good about yourself and it helps everyone."
Brown sniped his 11th goal of the year on a first-period power play, and freshman defenseman Lane Hutson buried the team's fourth goal in front of the net. The tides turned at the end of the first period when Maine jumped on a complacent Terrier group and scored three times in the final 2:28 of the first period.
"The first 15 minutes of the game we were playing pretty close to as well as you can," Pandolfo said. "We got that penalty, they scored that funny power play goal, we ran into (Commesso) and then never really recovered. They scored and next thing you know, they've got a little momentum."
Maine's first piece of momentum was grabbed on the man-advantage. Black Bear junior forward Donavan Villeneuve-Houle then got one past a down-and-out Commesso.
"We got away from our game a little bit," Skoog said. "We took some damage, so next weekend we'll have to come out (strong) and continue playing like we started the game."
Having seemingly righted the ship with a strong start to the second period, the Terriers' "kid line" re-established a two-goal lead. Freshman forward Ryan Greene fed fellow freshman forward Jeremy Wilmer for a bang-bang sequence. With nine points since the turn of the new year, Wilmer has continued to grow early in the second semester.
"When I find my spots in the d-zone, pucks find me, find my linemates," Wilmer said. "That played a lot into that game and the offense we're starting to create."
The all-freshman line turned in yet another beyond-their-years performance, combining for eight points in the high offensive outing.
The Black Bears once again did not quit, capitalizing multiple times in short order. Maine scored two goals in two minutes and officially ended Commesso's night, although the second goal was later disallowed. 
"We had some D in there that don't get a lot of minutes," Pandolfo said. "You can't really replace (Fensore) — you've just got to have some guys step up and take some of the minutes."
The Terriers' responded with the puck pinballing its way into the net, giving sophomore defenseman Ty Gallagher his first goal of the year in bizarre fashion.
"Overall, his game's been pretty good," Pandolfo said. "(Gallagher) doesn't really have to worry about scoring, he has to worry about just playing his game. If he does that, goals will come eventually."
After the Gallagher goal, the Terriers finally found a lead they would not relinquish. BU not only held onto their lead but also skated away from Maine in the third period. Freshman forward Quinn Hutson buried a stretch pass from his brother Lane, Wilmer collected his second of the game soon after and junior forward Luke Tuch continued his recent scoring output.
Despite grabbing six valuable points in the Hockey East standings, the Terriers will have to do what they've done all year: bounce back.
BU faces a hungry Boston College team next weekend. Like the Terriers, the Eagles (9-7-5, 5-4-4 HE)  are also looking to bounce back after suffering a home sweep at the hands of the University of Vermont. Pandolfo said he is unsure if Fensore will be back in the lineup.
"I certainly hope so," Pandolfo said. "Knowing (Fensore), he'll be ready to go."
The Terriers will enter the Battle of Comm Ave. next weekend with Friday night's game set for 7:00 p.m. at Agganis Arena. The Boston Hockey Blog will have continued full coverage of the team so be sure to follow along on Twitter @BOShockeyblog and Instagram @boston.hockey.blog.