By Chloe Patel and Mark Fraenkel
With the Boston University and Boston College hockey rivalry matchup on the horizon for the No. 5 Terriers, BU is looking the best they've been in the past few years and have a chance to make a real dent in the NCAA tournament. The last time the Terriers made their way into the Frozen Four was in 2015, where three Boston Hockey Blog beat writers first made their impact on the sports media world.
Sarah Kirkpatrick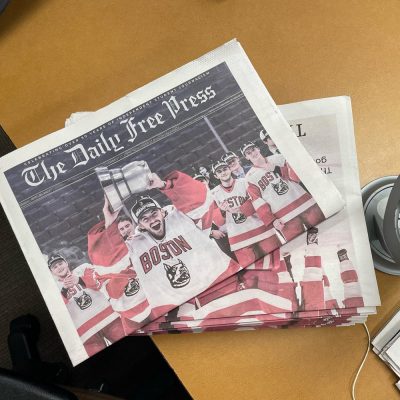 Six years after graduating from BU, Kirkpatrick is the director of athletic communications at Holy Cross and is the primary contact for Bob Chesney's Patriot League champion football team. Her office oversees all external coverage of the football team.
Originally from the Seattle area, Kirkpatrick is an innovator in her field. For instance, instead of previewing games in the traditional format, she'll write a feature profile on one of the players.
"They're great students. They're great members of the community. They have fantastic stories. Why not cover that?" she said. "I had this idea of going back to that storytelling route and picking one guy per week (to profile)." 
Through reporting on sports and interacting with the team of sports information directors (SIDs) during her time at BU — including current SIDs Kevin Edelson and Brian Kelley — Kirkpatrick realized the sports information direction would be better for her than journalism.
"I saw what (Edelson and Kelley) were doing and I started to think, maybe this is more the route I want to go," she said. "There was always this voice in my head that (said) I want to be in an environment where I can support people… I could use this (role) and have a direct impact on people, on student-athletes and their families and fans."
Sports media is a male-dominated field, but Kirkpatrick serves as a role model for women aspiring to enter the industry.
Now, Edelson considers Kirkpatrick one of the country's best SIDs.
"She's one of the best we have," Edelson said. "I don't know every SID around the country, but it's fair to say she's one of the best in the country and certainly one of the best SIDs we have in the region and in the Patriot League."
Conor Ryan
Originally from South Boston, Ryan didn't travel too far from his hometown to attend BU and dip his toes into journalism.
"I didn't really do much writing in high school or anything like that," Ryan said. "I'm very bad at math and science and I was pretty good at English, so might as well give it a go and that's how it kind of started me on that path."
After covering women's soccer, women's basketball and softball for the FreeP, he ventured into hockey as a beat writer, ultimately covering men's hockey by his senior year. That season, current Vegas Golden Knights center Jack Eichel started at BU, which generated excitement from the players and fans alike. Ryan's experience during the team's 2015 championship run solidified his interest in hockey beat writing. 
"For us to have that opportunity to be a resource for these students, alums and casual hockey fans that were so invested in that team … made for a memorable couple of months."
Last month, Ryan transitioned from the Boston Sports Journal to Boston.com and now broadly covers New England teams while still focusing on the Bruins. 
"It does feel like things go by very fast in this profession, but when you have those brief moments, you can kind of take a step back," Ryan said. "There are times it's such a long, arduous process, but when you stick to it, you stay passionate about it and you just find ways to branch out in this hectic, crowded market we have. It puts you on the right path."
Andrew Battifarano
Like Ryan, Battifarano remembers his time on the Boston Hockey Blog fondly.
"(The Terriers) were arguably the best team in college hockey the entire year," he said.
"Covering the Beanpot that year was pretty awesome. BU won for the first time since (2009) and also did it in super dramatic overtime fashion… We got to tell these stories that I hope people can kind of look back on fondly."
While he is not currently a sports writer in his current role at the New York Post, Battifarano has written for the NHL and MLB during his career.
"Now I'm not doing as much sports (which is) just kind of the nature of the job… but it still translates," Battifarano said.
Hailing from Long Island, Battifarano's interest in sports started on the back page of Newsday, a local newspaper, where he could read about the teams he cared about, like the New York Jets, New York Islanders and New York Yankees.
During his time on the FreeP, Battifarano first covered men's soccer, women's basketball and softball. From there, he became an associate editor and then the head editor of the section before turning to men's hockey for his final two years.
"It's how I got my start," he said. "I just kind of fell in love with it, whether it was just like being able to watch games and actually do something tangible, writing a game story or doing a sidebar. It was just fun. I just liked the thrill of filing something on deadline and writing something that I could also be proud of."