Due to an increased demand for on-campus housing, nearly 100 incoming spring-semester students have been temporarily assigned in Hotel Commonwealth, located at 500 Commonwealth Avenue. Other incoming freshmen were assigned to 33 Harry Agganis Way.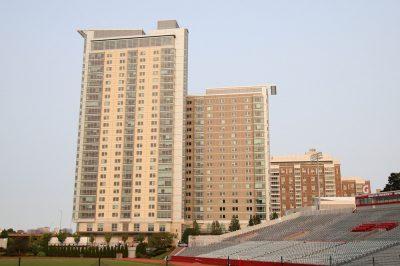 According to BU Spokesperson Colin Riley, all of the students living at Hotel Commonwealth are either spring transfer students or single-semester students in their first semester at BU.
BU housing sent an email to residents in Hotel Commonwealth on Jan. 9, informing they are "temporarily assigned" to the hotel due to "increased participation in Boston University's residence program."
"You go back 20 years, we house probably three-quarters of our students (and) that's the demand that has been historical at BU," Riley said. "We have very high percentage of seniors or upper class students retained in University housing which is a very good thing."
Richard Liu, a transfer student who currently lives in Hotel Commonwealth, said although the accommodations are "quite comfortable," it could have been better if BU housing "contacted earlier."
According to Liu, residents in Hotel Commonwealth were told in a floor meeting that the contract between BU and the hotel expires at the end of February and they could be forced to move out. Riley said he expects all students in Hotel Commonwealth to be moved to on-campus housing within a month.
"Our goal, of course, is to have those students transition to University on-campus housing as soon as possible," he said.
When students are moved to on-campus housing in the coming month, it could incur an increase in housing costs as those in the hotel currently pay the standard dorm minimum rate.
"New room may result in a change of your spring semester room charge," BU Housing sent in the email on Jan. 9. "If your permanent assignment does not require a meal plan, you will be dropped from the meal plan once you take your new assignment."
Other incoming students such as freshmen in College of General Studies were also assigned StuVi-II although, "freshman and transfer students are not eligible to live in the Student Village residences during their first year," according to the BU Housing website.
Joseph Yoon, a freshman in CGS, was placed in a double-occupancy room in StuVi-II with a junior and said it was "lucky" to be placed in a residence usually reserved for upper-class students.
"The location is great," Yoon said. "I do kind of wish there were more freshmen, but everyone else here is still pretty chill."
Sabrina Abselet, a sophomore in CGS who lives in StuVi-II with two new CGS freshman roommates, added that the situation is "really interesting."
"It's shocking because when we were freshmen we were all in Fenway," Abselet said. "I just think being a freshman in StuVi, StuVi can be very jarring … (because) StuVi is very isolated and you have to be very independent and get into the groove of things."
Riley said the whole situation is because the retention of incoming students living on campus created a greater housing demand than the University anticipated, not because of an over-enrollment.
"There are no students in the apartment-style of 33 Harry Agganis Way, I'm sure somewhere in the suite style," he said. "It's just making sure that we're able to accommodate the students."