Dear future me,
Woah. You made it to your last semester of college. That's bonkers, crazy, wild and every other adjective. What's more insane is that you might have already graduated by the time you're reading this. 
Where on Earth did the time go? 
Remember that Friday in December 2018? You got notified that Boston University had sent out their early decision results, and you started hyperventilating in your room. You called your mom and started screaming, which made her start screaming. When you finally opened that acceptance letter, the house practically crumbled because of the collective screams. 
You remember. How could you forget? That moment was one of the happiest in your life, and it shaped you into the person you are today.
And now, here you are. It all started on that Friday in December. Now that chapter is closing. But the realization that you're graduating hasn't fully sunk in yet.
I still think I'm coming back in September. I still think this May is going to be like the last few years. I can't possibly envision myself graduating in four months.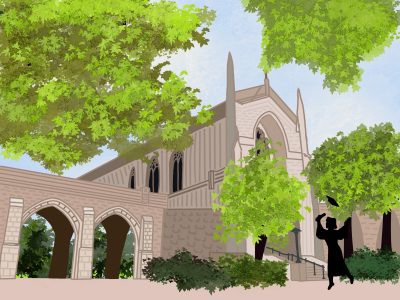 Soon I'll start applying for full-time jobs. I will go on my last spring break, and I will perform in my last dance show. I think that is when the realization will hit. To be honest, I'm not quite ready for that moment. 
In a way, I'm glad that I'm almost done with college. Being in school for 16 years is such a weird thing to think about. I'm definitely terrified of being an adult in the real world, but I'm looking forward to the change.
I've started romanticizing the future, and it brings me an odd comfort. Things may go downhill, but if I harp on that thought, I'll have an existential crisis. So, for now, we're going to stay cautiously optimistic.
And sorry future me, I know you're going to roll your eyes at this and probably vomit — I have to say — I'm proud of you. If life sucks after this, and if nothing turns out the way you want to, I'm still proud. We didn't take anything seriously in middle school and for most of high school. Our grades were bad, and motivation was a foreign concept.
Then we woke up. We realized there was a lot more we needed to do, and bam. It all paid off. That's when a part of me realized we had made huge strides. We still have dreams and wishes, but working so hard in our senior year to get into our dream university was a big thing — worthy of celebration. 
I have faith in you, future me. I genuinely do. I don't know if we will make it big and accomplish everything we want. I have a feeling we'll work with what we have. We'll find happiness, even if there are roadblocks. 
It's our last semester. Let's make it count. I'm ready for late-night talks with our roommates, cheering at hockey games, exploring all the wonders of Boston and crushing our internships and classes. This is going to be unforgettable.
Bring it, spring 2023. I'm ready for you.