For most freshmen, winter break is their first chance to return home after beginning college. This month-long vacation presents an opportunity to reflect on their first semester.
I have a theory. Winter break is a reflection period that can either validate one's decision in choosing their respected college, or it can highlight their displeasure with their choice. I call it the winter make or break.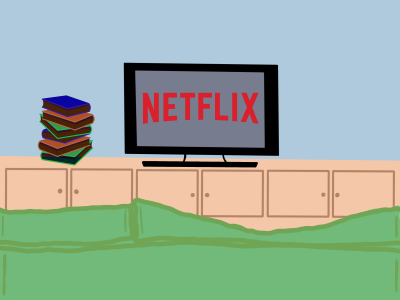 Winter break strengthened my choice of college, but this isn't always the case. Returning home can be harder for some people. It places them back in the comfort zone they longed for during the previous months. This time may help them realize they want to transfer.
I knew I wanted to leave home to see if I could do it, but it isn't wrong to want to go back. The fear of not wanting to leave home almost held me back from Boston. Now I know moving was one of the best choices I have ever made.
I grew up in a tiny town in Upstate New York near Canada and Vermont. I knew I wanted to move to Boston since I was seven. When it came time to apply for schools, I looked into BU for its communications program. I decided to apply with no expectation of getting in. 
Once I received my acceptance letter, I knew I had to go here — but I was terrified. I graduated with 130 kids and was deciding to move to a major city and a school with thousands of students. I did not want my dream to turn into a nightmare. 
At one point, I considered transferring because I did not think I could make it before I came. I did not think I was smart enough or able to make such a big change, but I am glad I stayed. 
If you decide that your college is unsuitable for you, that is okay. 
Winter break isn't the only impetus for transferring. I have friends in Boston and back home who have transferred and love their new schools. Don't think you did anything wrong by choosing to leave your college. 
The biggest part of going to college is giving it a proper chance. Immerse yourself in the community by joining clubs, speaking to new people in a class and partaking in local activities whenever you have the opportunity. 
College in the media is portrayed as the best four years of your life. That's unrealistic. Many students go into college with expectations that they made the perfect decision. There will always be issues no matter where you go.
Transferring seems to have a negative connotation, and it shouldn't. You are not only paying for an education but also an experience you should enjoy. I am proud of my friends who could transfer here or to other schools. They knew what they wanted to get out of college and are taking steps to obtain those aspirations. 
Whether you love your college or want to transfer, go with your gut. Find a place where you can grow and learn. 
Now, what does winter break have to do with this? 
Winter break gave me an opportunity to truly see how much I love Boston and going to school here. I was eager to return even though I loved spending time with family and friends. 
For others, winter break showed them how much they missed being home. It is the first chance we are given to step back from school work and look at our first few months as independent adults. 
Winter break made my decision clear. What did it do for you?