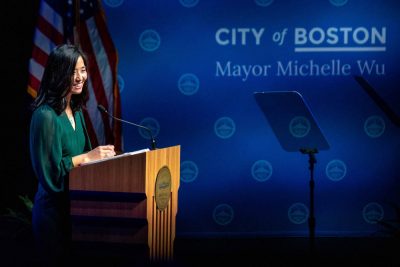 Boston Mayor Michelle Wu delivered her first "State of the City" address after a year in office Wednesday night at the MGM Music Hall at Fenway to a crowd of over 3,000, according to event staff.
Attendees included Massachusetts Gov. Maura Healey, numerous state and local lawmakers, administration officials, Boston police, fire and emergency medical departments, community and religious leaders and business leaders.
It was headlined by what the Mayor's office called "Civic Heroes," "made up of City of Boston employees representing a variety of departments who have gone above and beyond to help City residents and build community," according to a press release for the event. 
Former acting Mayor of Boston, Kim Janey — who preceded Wu in office — was also in attendance and before the event told the Daily Free Press she was "excited" to hear what Wu had to say.
"There's so much more work that has to be done," Janey said. "I certainly think this mayor has the right heart, (and) is focused on many of the right issues like equity, like housing affordability or like jobs and growing our economy," Janey said. 
After the National Anthem, the Pledge of Allegiance, the invocation, delivered in both English and Spanish by Pastor Samuel Acevedo and a piano performance by Shaleeca Joseph — who received a standing ovation — a video highlighting the city's "civic heroes" played.
Then, Wu took the stage to a standing ovation of her own. 
"It's thanks to the people of Boston that I can stand here tonight and say the state of our city is strong," Wu said. 
Wu's speech was focused on three major aspects of her upcoming legislative agenda: education, housing and urban development. 
Wu also discussed the past year, highlighting many initiatives launched such as a community peace garden on Washington Street and Newmarket BID's employment program to end homelessness.
"We built a new model for housing and services so tents could come down, and people could heal," Wu said. "Through the Newmarket BID's 'Back to Work' program, folks who were once living at 'Mass and Cass' are now part of the team working to keep the area clean and safe for everyone." 
Mayor Wu's biggest announcement was about changes to the city's planning department. 
"Tomorrow, I'll sign an executive order establishing a planning advisory council to fully integrate long-range planning and begin modernizing our zoning code," Wu said.
In this executive order, efforts previously under the control of the Boston Planning and Development Authority will be restructured, moving to a new city planning and design department to encourage growth in planning and urban design, said Wu.
Wu has vowed to abolish the BPDA since her campaign, and this executive order seeks to take steps in that direction. 
"That growth wasn't harnessed for the benefit of all our communities," she said, referencing many residents being driven out of their homes due to the rising costs of living.
Wu also vowed to transform the way the city goes about urban renewal projects and cited the lack of planning for affordability, transit and sustainability in the past as a need for the change.  
"Next week, we'll file the whole petition to formally end the decades-old urban renewal mission of eradicating so-called 'blight' and 'urban decay' and instead rededicate our resources toward Boston's urgent needs today — resiliency, affordability and equity, " Wu said. 
Mayor Wu is also "renewing (her) call for the people of Boston to have a seat on the MBTA board," a proposal that the Mayor's website said, "will build on support garnered last session when former Governor Baker, Senate and House leadership supported the proposal to add a Boston seat to the Board."
Before the speech, Lisa Bello, a musician from Hyde Park and former Boston Public School teacher, said she was hoping Wu would announce new investments in music and arts, especially in schools.
"I'm really excited to hear about anything to do with the arts … We had a lot of art (in the schools) but during (previous administrations) tenure(s), art was taken away,"  Bello said. "I know she's done everything she can to try to bring it back."
Mayor Wu did exactly that. 
"This year will be Boston's largest-ever investment in artists and the arts," said Wu. 
Wu praised the rejection of what she described as a "state takeover of Boston Public Schools" and announced new investments in education to improve staffing, professional development and curriculum, hoping to create a more cohesive and equitable education system that "empowers rigor and engagement across all subjects." 
Wu also announced a $50 million investment in inclusion to uphold an agreement with the B​​oston Public Schools teachers union to "co-design and transform how we serve students with disabilities."
"Superintendent (Mary) Skipper and I won't settle for anything less than academic excellence across all our schools, accessible to all our students," she said. 
Wu called the Quincy Upper School in Chinatown Boston's next "state of the art high school," but said the project started in 2012 and has yet to be finished.
To combat the slow construction of new school facilities like Quincy Upper School, Wu said she will conduct a "school design study" that "will take a full year off the planning process for every new school in the city, and we'll get more projects going at once than ever before."
Wu also discussed the transition from lower to higher education, something that Richard Harris of Boston and North Attleboro was hoping to hear. 
"I'd say one of the key areas is really looking at how we engage high school to college course credit so that students can go to high school, get enough credit that then goes towards community colleges or senior colleges to both defray the costs, but also provide early access into college pathways, or into college opportunities," Harris said before the speech. 
Wu announced a partnership with UMass Boston by highlighting a "Year 13" program at Fenway High School that allows students to take college-level courses and obtain real-world work experience.  
Another major aspect of Wu's speech was housing.
Giovanny Valencia, director of community organizing at the Jamaica Plain Neighborhood Development Corporation and a resident of West Roxbury, said he was excited to hear about affordable housing.
"The city is moving in the right direction and I really hope to see what happens next," Valencia said.
Wu also announced a new initiative to encourage local builders to design new homes on vacant lots, which they will receive for free, as well as "several parcels (of city-owned property) that could generate thousands of affordable units."
"Our neighborhoods must be climate resilient and community focused," said Wu, "This year we'll launch a civic and green space master plan and begin design for new community centers in Grove Hall in the North End." 
Wu announced an executive order ending the use of fossil fuels in new city construction, schools, municipal buildings and public housing. 
"Together with the Boston Housing Authority, by 2030 we will end the use of fossil fuels in the city's public housing development," Wu said. 
Another major proposal from Wu was rent stabilization — something she ran her campaign on throughout 2021.  
"To get to our goals to bring rent down, to integrate all the transportation and climate goals, we have to be using every possible tool when it comes to housing in particular," Wu said to the press after her speech.
When asked by the Daily Free Press about when the plan will actually be proposed, Wu said she's "hoping in the next couple weeks."
"Together, we can build a Boston that's more green than concrete, where housing is a given not a godsend and mobility is the minimum, not a miracle," Wu said. "Where the things we build, inspire, that don't define us and where each generation shines brighter than the last."
As for what it means to be Mayor of Boston, Wu said, "it feels like a gift to be able to get up every day and go to work for the city I love with people who love it, too."
"Boston is a city that will never stop reaching up toward the progress we know to be possible and out to the community whose work makes it lasting," Wu said.