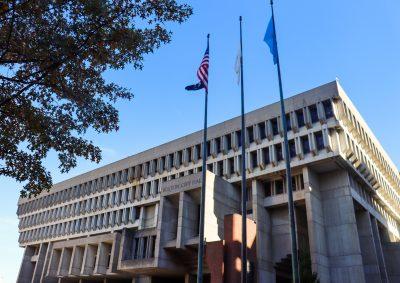 Boston City Council added a series of social justice initiatives to their agenda Wednesday afternoon, including hearings on affordable housing, supporting minority-owned businesses and promoting mental health in Boston Public Schools. 
Councilors Julia Mejia, Kendra Lara and Tania Fernandes Anderson sponsored recommendations during the City Council's meeting Jan. 25 calling for the legislature to review Boston's current policies concerning educational, racial and economic equity. 
"It's really about how do we seize this moment to look at all of the issues," Mejia said. "So for us, it's really like opening Pandora's box."
Mejia and Lara called for a hearing to discuss the social-emotional wellbeing and academic performance of LGBTQ+ students in Boston Public Schools.
Lara — who sponsored an additional recommendation for the City Council to discuss the criminalization and incarceration of the LGBTQ+ community in Boston — said that these efforts were inspired by direct feedback from queer Bostonians on how to make the city more inclusive in both name and practice.
"Queer folks from across the city were clear about what we could do to move beyond pride towards policy," Lara said. 
Mejia called for an additional hearing to draft a BPS-wide mental health curriculum that will address students' difficulties coming back to school after months of COVID-induced closures.
In the wake of the pandemic, mental health issues and the demand for psychological services have reached an "all-time high" among children, according to a January 2022 report by the American Psychological Association. 
Mejia said she struggled with mental health growing up and knows that these topics are difficult, yet important, to discuss.
"I know that oftentimes in communities of color, it's one of those conversations that we usually put to the side," she said in the meeting. "But I think if we're really serious in supporting our young people that we need to make it okay to not be okay." 
Anderson offered an amendment to the Boston Municipal Code to assess if affordable housing laws include Bostonians of color equitably.
Anderson said that the council needs access to "concrete and tangible data" to determine if the city's current affordable housing eligibility requirements exclude the Black and brown communities most likely to need rent control.  
"While there are wide sectors from every racial and ethnic group that could benefit from a robust policy of affordable housing, we know that our Black and brown communities are more likely to be working class," Anderson said. "Therefore, (those communities) should be reaping a good share of the affordable housing that exists in our city."
Mejia addressed concerns about making publicly-funded contracts more available to minority-owned companies. 
BIPOC-owned businesses in Massachusetts receive a disproportionately low percentage of state and local contract opportunities, according to an investigation by GBH.
Luz Johanna Pérez, a principal research analyst and Latinx employee resource group liaison at City Hall, said the municipal government's delayed payments can create unnecessary barriers for small and minority-owned businesses seeking public contracts.  
Pérez said it took four months for the city of Boston to compensate a DJ she hired for a Latinx Heritage Month celebration, which created a "stressful" situation for both Perez and the self-employed DJ. 
Mayor Michelle Wu signed an executive order in February 2021 establishing a city-wide goal to award 25% of total public contracts to minority- and women-owned businesses, according to the Boston municipal government website.
In order to successfully fulfill the Mayor's objective and recruit more minority-owned businesses to public contract opportunities, Mejia said the legislature must review the city's current hiring policies. 
"The executive order attempts to remedy both historical and current barriers minority- and women-owned businesses encounter when interacting with city contracting processes," Mejia said. "Therefore, it is essential to determine if there are any compounding disadvantages that need to be further identified." 
Mejia said the social justice initiatives in City Council are targeted at "repairing the harm" she experienced first-hand as a minority growing up in Dorchester.
"Yes, I represent the entire city of Boston, and yes, I have an amazing opportunity to move the work forward," Mejia said. "But I want to do so in a way that does not leave anyone behind."