lea robinson was not always an actor. Before finding a career in Hollywood, they worked in education as a basketball coach and a university administrator. Despite the seemingly disparate nature of their resume, robinson said activism is where their "worlds merge."
"There are ways that I can bring that into my characters, and then in the next breath go have a talk with students and share that same energy," robinson said. "I'm just very fortunate that my passion and my careers overlap like that."
robinson brought that passion to Boston University's George Sherman Union on Wednesday, speaking to students and faculty about their life as a transgender person in acting and academia.
robinson, who identifies as a "trans, queer, non-binary, butch and multi-racial actor" according to the event listing, stars as trans Black man Bertie Hart in Amazon Prime Video's "A League of Their Own" — a show inspired by the 1992 film of the same name.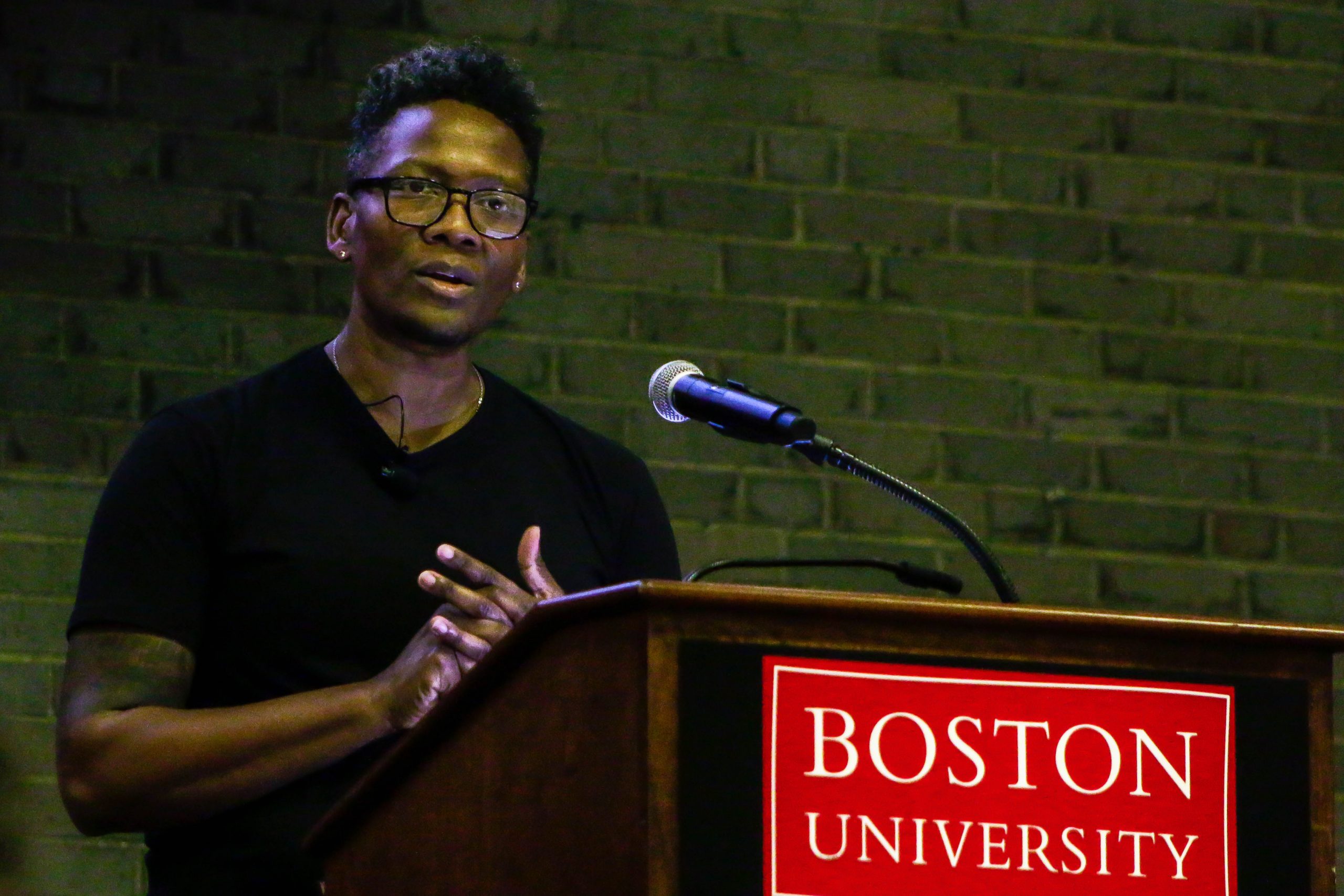 During their speech "Queering Higher Ed, Queering Hollywood," robinson discussed growing up uncomfortable with their assigned gender identity and breaking into a series of cisgender dominated spaces. The actor also discussed what it means to "queer a space."
"We're creating an opportunity to understand that there are other voices that exist and may not be in this space right now, but how can we get those voices into that space?" robinson said.
robinson also has experience outside the world of acting, working as an academic administrator who "played a lead role supporting and affirming QTBIPOC students at Columbia University and UC Berkeley," according to the event listing.
Tori Richardson, an attendee at the event and BU graduate student, said the talk was "phenomenal," citing robinson's discussion of "the importance of paving the way and then reaching your hand back for those who are coming behind you."
"No matter what space we're in, no matter what profession or area… we have the ability through being visible to create space for the members of our community around us," Richardson said.
When discussing their role as Bertie in "A League of Their Own," robinson said the original 1992 film was "a beautiful feature" and "important and impactful," and they feel the new, updated show creates a fuller picture.
According to the show's IMDB page, the comedy series tells the story of the WWII All-American professional women's baseball league.
"It wasn't about a redoing of that story, because they told the story they could at the time that they could tell it," robinson said. "This was just an opportunity to expand on the richness of that and just hear the other voices and hear the other experiences. The voices and experiences that we know were there, now we get to really take a good look at them."
Attendee and BU graduate student Sophie Lieberman, who has seen the new version of "A League of Their Own," said she appreciates the newer interpretation, as the 1992 version included "mostly white voices."
The original version of "A League of Their Own" was "one step in one direction, but harmful in a lot of other ways," said Lieberman, so the representation in the show is "awesome."
"This new version brought so many different people's stories that weren't ever told," Lieberman said.
Though robinson's star is still rising, the event was well attended. Allison Reilly, the assistant director of the LGBTQIA+ Center for Faculty and Staff, said they were "very excited with the turnout."
"lea is an incredible person, incredible speaker," Reilly said. "Clearly breaking barriers in Hollywood around queerness, around being a trans, masc, queer person of color. So we were stoked to be able to get them for this event and I'm very happy with the turnout."
Reilly said robinson's talk was a part of BU Diversity and Inclusion's "Learn More Series," a year-long succession of events focusing on a different topic each year. Previously, the series has investigated issues like disability, class and racism, with the 2022-2023 theme being "LGBTQIA+ Identity & Experiences," according to the Diversity and Inclusion website.
"From the feedback that we have gotten, we've been able to address some topics that folks in the BU community think are really important and need to be talked about more," said Francie Latour, director of educational programming initiatives at BU Diversity and Inclusion.
After their talk, robinson said they hope the audience will "continue to find their activism."
"I hope that they heard to persevere," robinson said. "Things will be challenging, and we've all been there and rely on each other and persevere."
robinson also said they hope the audience remembers "self care" while they find their voices within activism.
"Take care of yourselves and each other," robinson said. "This work can be hard and it can be heavy."