A 20-year-old woman was in "critical condition" after being trapped under a Green Line train car on Friday night at Boston University Central station.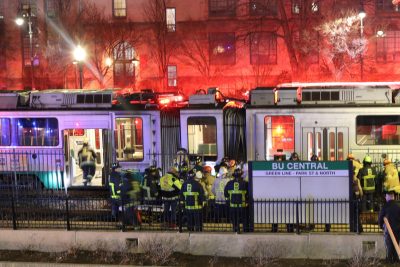 The accident happened around 11:40 p.m. and was not caused by any mechanical error or at the fault of an MBTA employee, according to Transit Police Superintendent Richard Sullivan.
Sullivan said the 20-year-old is expected to survive.
Robert Counihan, district chief of the Boston Fire Department, said, with the help of the MBTA, the Boston Fire Department was able to jack up the train and get the woman out. She was then sent to a local hospital.
"We had a female that was trapped underneath the train … she was still alive," Counihan said. "EMS was able to give her some medication for the pain. We were able to jack up the train with the help of the MBTA and extricate her from the train."
Viviana Dominguez, a research assistant at the Boston University School of Medicine who was on the train when the incident occurred, said she was shocked when she learned someone was stuck under the train.
"I don't remember actually if we felt the bump first, or if we lurched forward first, but I remember … that people were surprised," Dominguez said. "When we saw the train conductor get off the train to look towards the back of the train, a few people got off of the train and realized that someone was under (there)."
Lucia Godinez, a sophomore in the College of Arts and Sciences, said the Green Line was shut down past Kenmore Station and people were taking shuttles to get to stops on BU's campus.
"I (took) the shuttle back here and then I (saw) a bunch of ambulances (and) cops," Godinez said. "I saw a bunch of people in one section of the T and all I know is that someone got stuck under there."
Dominguez said she was praying for the person to make it out safely.
"I've heard of news stories where this happens but I didn't actually expect to see it occur in person," Dominguez said.