The Boston University women's basketball team defeated Lehigh University 82-69 on Saturday afternoon as they celebrated Alumni Day. The Terriers (15-6, 10-0 Patriot League) maintained their undefeated conference record with the win.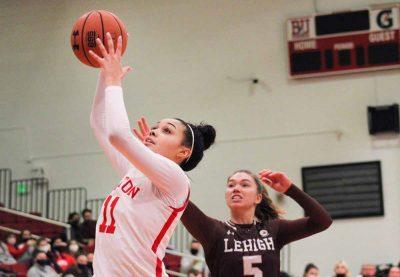 "Really excited (to have) the alumni here, celebrating the legacy and celebrating each other," said head coach Melissa Graves. "Our seniors talked about wanting to get this one. They've only beaten Lehigh one time previous to this, so it's always been a difficult matchup for us."
The game started competitively, with both teams trading points for a majority of the first quarter. The Mountain Hawks (10-11, 6-4 PL) played aggressively and led BU for over seven of the first 10 minutes of the game. Junior guard Mackenzie Kramer put on a great performance, scoring seven of Lehigh's 15 first quarter tallies. She played 38 minutes and ended the game with 19 points, shooting 8-13.
"She got some shots off that we didn't really want her to get, she got some (chances) at the rim," Graves continued.
Despite Kramer's stellar play, the Terriers exploited their height advantage, attacking the interior and closing the quarter with a 16-15 lead. The Terriers continued extending their lead while the Mountain Hawks struggled with BU's physicality. BU pulled away from Lehigh in the second quarter, with Lehigh scoring only eight points compared to BU's 21. 
Terrier junior forward Caitlin Weimar suffered a lower body injury late in the second quarter and left the game after recording 12 points and nine rebounds. Weimar has scored double digits in 14 of 16 appearances this season.
Graves said the team put more emphasis on defense and increased their focus and physicality after the first quarter.
"We went into the second quarter with a better defensive mindset, and we had a great quarter," she said. "We adjusted. We were more aggressive."
Lehigh couldn't recover after BU's dominant second quarter, which saw the Terriers run away with the lead. Despite getting outscored 46-45 in the second half, the Terriers' accuracy from the field and the free throw line helped them maintain their advantage against the Mountain Hawks.
The Terriers outscored the Mountain Hawks in the paint by an impressive 38-24 margin and also held the edge in second chance points, scoring 16 to Lehigh's four. The Terriers played to their strength inside and beat Lehigh in the paint.
The Terriers will look to continue their winning ways when they host Loyola University Maryland at Case Gym on Saturday, Feb. 4 at 2 p.m.