Competitive high schools are often appealing to both students and parents as there is an undeniable correlation between a secondary school's reputation and the likelihood of being accepted into an elite college. What is often overlooked is how attending a "high-achieving school" threatens students' mental health in the long-run. 
Burdens such as academic pressure, extracurriculars and future expectations are often associated with developing anxiety and depression. It comes as no surprise that the majority of Ivy League students are three times more anxious than their average peers.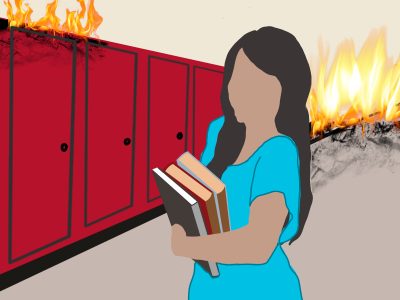 My high school experience will forever prevent me from having a healthy perspective and relationship with academics. 
I attended a very traditional Italian high school in a Roman neighborhood that was built by Mussolini in the 1930s. More specifically, it was deemed a "Liceo Classico," a curriculum that includes 11 subjects, though it mostly focuses on the humanities. The main peculiarity of this kind of secondary school is the heavy emphasis on studying the grammar, syntax and literature of Latin and Ancient Greek. 
An aura of prestige and elitism surrounds this classics-oriented high school as it remains the oldest secondary institution, having been introduced during the era of fascist Italy to fuel national pride. Until 1969 it was the only diploma accepted by Italian universities.
When I was still daydreaming about what high school would be like, I pictured Raphael's "School of Athens," expecting to find an environment where teachers foster intellectual curiosity and students debate philosophical matters while carrying heavy Greek dictionaries under their arm. Although the last image was true, everything else had the atmosphere of Dante's "Inferno."
Starting sophomore year, teachers encouraged us to pull all-nighters and to drop any extracurricular activities to increase study time. Occasional complaints about the workload were met with a continued lack of empathy. In their eyes, we did not deserve any special attention for being tired as that is part of the "Liceo Classico" experience. 
My few memories from senior year include a narrow range of weekly screaming matches my class would have with our teachers when asking for help. Our struggle to balance school with planning for university never seemed to be a considerable forethought in their minds. 
Once, someone dared to state that Latin and Greek were not our life's priority, and our headteacher had taken the words so personally that she left the classroom — slamming the door. 
The endless stress, sleepless nights and unrealistic expectations fostered an insanely competitive environment to the extent that hatred and mistrust among students were omnipresent. As a class, we collectively refused to send notes or share information about tests. Regardless of its brute nature, any advantage increased the possibility of a higher grade — which was all that mattered. 
High school is a crucial chapter in most people's lives. Not only does secondary school forge the academic tools necessary for university or the labor market, but it is a formative life experience where students are to explore their passions and learn fundamental life skills. 
As a junior in college, my mindset with respect to academics has stayed the same, and I continue to fight my destructive high school behaviors on a daily basis. A draining sense of guilt overcomes me whenever I engage in activities other than studying. I cannot allow myself to have a good night sleep before a test instead of cramming until dawn. 
Surely, such rigorous academics taught me time management and gave me an immaculate work ethic, but it often happened at the expense of mental and physical health. 
Having realized that continuing to overburden myself with work was not sustainable, I have been forcing myself to implement healthier behaviors, such as increasing my average night sleep from six hours to almost eight and never studying during meals. 
Although fighting old impulses is a daily challenge, I am slowly learning that I deserve to take breaks and not every moment of every day needs to be productive.
As I am working on rebuilding my relationship with school by creating better habits and striving for balance rather than strain, I feel a sense of relief knowing that I will complete my undergraduate education in a little over a year and finally allow myself to take a break from studying.