At Boston University's Guerrilla Marketing Society, the sky's the limit. The group has worked on marketing campaigns for big name clients — from Expedia to Spotify as well as campus favorites like Caffè Nero and Rhythm 'N Wraps.
Vice President of GMS Kelly Shao, a junior in Questrom School of Business, said the group does "pro bono marketing consulting work" for clients through guerrilla marketing strategies, using a project-based structure that uses "unconventional and low-cost tactics."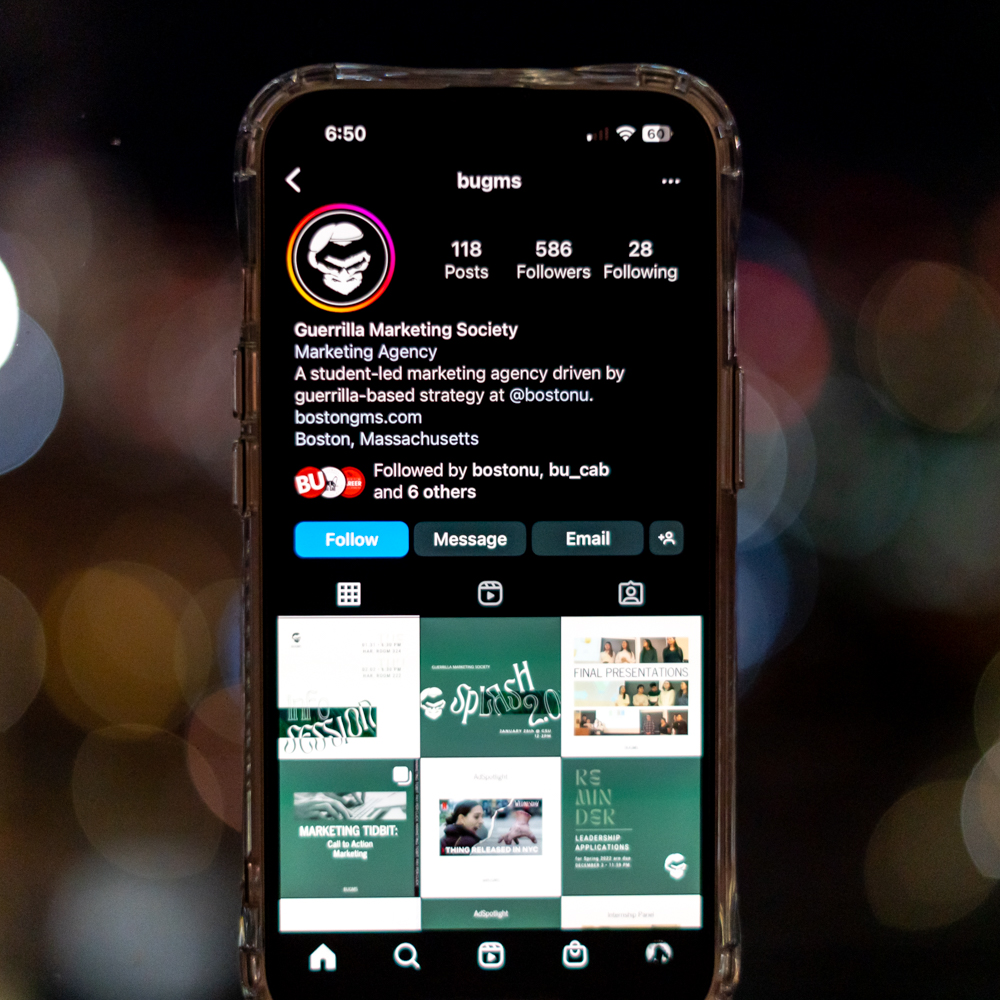 "What it really is (about) is generating this super unique experience or very unique impression between people who are exposed to the tactic," Shao said. "That will get them to remember or engage with the brand or the product in a really unique way."
Head of Inbound Stella Yang, a sophomore in Questrom, said guerrilla marketing involves a strategy that "sticks into your mind," such as tying red balloons to sewers to advertise for the movie "It."
Yang said the group's clients often seek low-cost promotional tactics because of financial constraints.
"Having those constraints allow us to be more creative in our marketing tactics," Yang said. "It gets people thinking outside of the box and trying to work within these constraints."
GMS emphasizes the role of creative thinking in the marketing process more than traditional marketing does, Shao said.
"With guerrilla marketing, it's really like, 'how can you make a play on the brand, make a play on the product?'" Shao said. "It allows for a lot of creativity, and then that creativity is what snags your audience or people who are exposed to that tactic, and that's what makes it so special."
GMS Co-Head of Communications Miri Chan, a sophomore in Questrom, said she joined the group because of its focus on real world experience with high-profile clients.
"I was 17 years old, doing agency work for a company, which was really cool," Chan said about her early days in GMS. "If you want the experience, and you want to figure out if marketing is for you, this is the best way to get involved."
Chan said students are welcome to join even if they are not necessarily interested in pursuing marketing. Shao said despite being a "major organization" in Questrom and having a predominantly Questrom student makeup, the Guerrilla Marketing Society hopes to continue to expand its membership.
"It'd be even nicer to introduce even more diversity from different schools to be a part of the club as well," Shao said. "Especially since this sort of opportunity is really unique."
Shao said the group also hopes to collaborate with even larger, more famous companies.
"Working with brands of that caliber just makes it so much more exciting," Shao said.
Yang, who runs the social media for the club, said she was tagging the club's clients on Instagram and noticed each client's number of followers and popularity.
"I was like, 'Wow, I'm so shocked at what our club can do, and the clients that our club is reaching,'" Yang said. "I just feel really happy with where we're going as a club and I hope we just keep progressing in the future where we keep getting to work with very cool clients."