Boston University Campus Planning and Operations recently started new construction projects at Sargent College of Health and Rehabilitation Sciences and Wheelock College of Education and Human Development after months of planning and design work.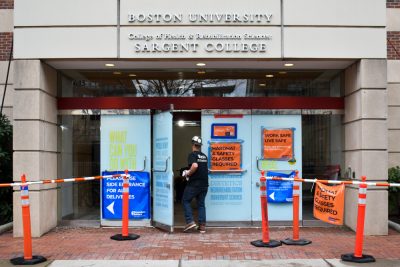 BU spokesperson Colin Riley wrote in an email that Sargent's program space is currently being reconfigured and a first floor classroom at Sargent is undergoing renovations.
Riley said construction at Sargent is projected to be completed by the start of Fall 2023 semester and will make the space "more efficient and user friendly."
Construction at Wheelock is for the professional preparation office, which is being relocated from the Fenway campus, according to Riley. The office in Wheelock is scheduled to be completed by the end of February.
Katie Brunner, enrollment marketing and communications specialist at Sargent, said although Sargent College has great facilities, she thinks the building needs an update.
"One thing that bothers me about Sargent is that we have really, really impressive facilities, but a lot of the times the building doesn't reflect that," Brunner said. "It is nice to know that we're gonna have a little bit of an update."
Brunner said that she hopes Sargent's renovations will help retain potential students.
"One thing that [prospective students] consider obviously is facilities and things and even though people don't like to admit it, everybody judges a book by its cover at least a teeny bit," she said. "I hope it'll help us retain our prospective students that are really great."
Malia Sparrock, senior staff coordinator of Sargent academic services, said construction has not been too bad so far, but has made it difficult to hear inside the building.
"The worst was the first few days where they were doing a lot of work downstairs," Sparrock said. "It was hard to hear people's phone calls when they came in, so I had to transfer a lot of that to emails."
Sparrock said she hopes Sargent's renovations will create more space for students.
"If the layout is what it's gonna be in real life and if it does what it's supposed to do, like make sure there's enough space for all the students … it'll be worth it."
Danuta Charland, assistant to the director of Sargent, said the noise from construction bothered her while working.
"The noise was really problematic sometimes," Charland said. "I know [construction] really affected other people, especially the PIs in the labs who are doing very sensitive work."
Riley wrote that the university attempts to schedule most of the construction work when it will be least disruptive to classes and programs on campus, but some noises and interruptions are inevitable. 
Charland said she thinks the construction will bring up the value of Sargent for current and future students. 
"Visitors don't mind so much seeing the under construction sign, knowing that in the future, that this is going to improve their quality of education," Charland said.
Carson Paradis, a sophomore in Sargent College of Health and Rehabilitation Sciences and the vice president of the Sargent class of 2025, said many Sargent students are excited to have a new space.
"It does feel like it's something new for me," Paradis said. "I'm gonna go in and have a space to work and a space to actually call my college."