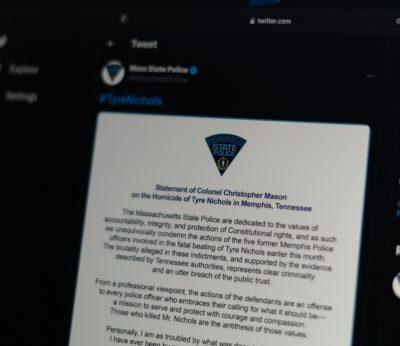 By Cameron Bennett
Several protests, a memorial and a vigil have taken place in Boston after the death of Tyre Nichols. Protests across the nation are forming in response to the events seen in the police's body camera footage of their altercation with Nichols, released by the city of Memphis on Jan. 27. 
"When horrific acts by those who are sworn to protect and serve anywhere take place, they undermine the trust in those who are sworn to protect and serve everywhere," Mayor Michelle Wu said at a vigil this past Friday. "To all of our communities, but especially to the Black and brown men of Boston, you deserve to feel and to be safe."
Nichols, a 29-year-old motorist from Memphis, was pulled over on Jan. 7 for reckless driving. 
Nichols fled the scene after police pulled him out of his car. Officers chased him and then proceeded to kick him and beat him with their batons, as seen by body camera footage.
Nichols reported shortness of breath, stating that he was "just trying to go home" in the footage.
After the beating, he arrived at the hospital in critical condition. Nichols passed away three days later, according to an NPR report. He was the father of a four-year-old son, an avid skateboarder and loved taking pictures of sunsets, according to the Associated Press. 
"I am calling for all of us to reimagine and rebuild the way that we exist as community and the way that we support each other, in a way that we can imagine how policing works in a multiracial, multicultural society, a society that embraces all of us and especially Black lives," said Imari Paris Jeffries, executive director of Embrace Boston, during the Friday vigil.
Many Boston residents have acted in response to Nichols' death by hosting a vigil, organizing protests and creating a memorial at the site of "The Embrace" sculpture in the Boston Commons.
This past Saturday, the Party for Socialism and Liberation organized a protest in front of the Massachusetts State House. Protestors marched through downtown Boston calling for justice and demanding police accountability, according to the Boston Globe.
"The whole damn system is guilty as hell. I ain't playing, and we ain't playing, because enough is enough," said Savina Martin, one of the speakers and a racial justice activist, to the Boston Globe.
People at the memorial for Nichols generally stated that the location of the memorial next to "The Embrace" was very fitting.
"I think what I was amazed by, but then not surprised by, is that this has already become a place where current events are reflected upon and are in conversation with something that honors a major historical figure and it certainly seems appropriate to me that Tyre Nichols be honored here," said Sarah Stone, an economic consultant from Cambridge.
Others are happy that people in Boston are acknowledging the tragedy.
"I'm glad that there's some recognition in the city, even if it's just … cardboard," said Rania Said, a teacher at University of Massachusetts, Boston who lives in Cambridge.
There are also groups within Boston that can help those who want to get involved in police reform and racial justice, such as the Massachusetts Nonprofit Network, a membership association that delivers programs and services to help nonprofits get the resources they need.
The Chief Executive Officer of MNN, Jim Klocke, states that the most important way of getting involved is spreading awareness.
"Coming to grips with the horror of what was done to him needs to happen everywhere," said Klocke in an interview. "In terms of policy laws issues, there's a lot of work to be done."
Klocke said students who want to get involved here in Massachusetts should look to learn about organizations in their area to better understand state laws and policy issues.
"Most of the police conduct laws in the United States are on a state and local level," Klocke said. Because of this, each state needs a different level of reform.  
City leaders want the public "to acknowledge the privilege that some of us have never had to and never will experience this pain," said Jeffries during the Friday vigil.
Leaders also want a collective effort from all members of the community.  This is not just an issue for the Black community, but a problem everyone needs to work on in order to solve.
"So we stand here together, determined to reframe this narrative so that people will understand that Tyre's life matters, that our lives matter," said Reverend Jeffrey L. Brown, the co-founder and co-chair of Embrace Boston, at the Friday vigil. "As we stand together with our hands in one another, we will draw strength from each other."