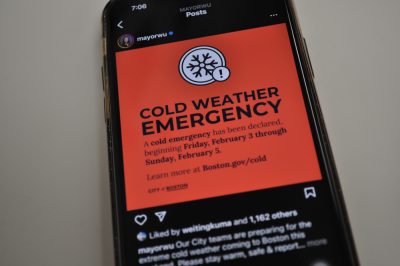 Extreme cold weather expected over the weekend has caused Mayor Wu to declare a cold emergency for the city — beginning Friday, Feb. 3 through Sunday, Feb. 5.
Temperatures are expected to dip to zero degrees late Friday night with a wind chill expected to reach close to 35 degrees below zero early Saturday morning, according to the National Weather Service.
Following the cold emergency declaration by the city, Boston University sent an emergency alert Thursday morning, warning students, faculty and staff to "take precautions against the cold."
BU spokesperson Colin Riley said the University will remain open Friday but said "we always encourage people to make the best decisions for themselves and dress properly for the weather."
Mayor Wu announced on Thursday afternoon that Boston Public Schools will be closed Friday due to the expected cold weather. 
A number of buildings will be open throughout the city for Boston residents to take shelter throughout the weekend. 
Governor Maura Healey, on the "Ask the Governor" segment from GBH News, announced that South Station will be open overnight for those who need shelter.
"It's a matter of basic humanity, in my view," Healey said.
Boston Centers for Youth & Families will open their community centers as "warming centers," while Boston Public Library branches will operate at their normal hours. 
The Southampton Street Shelter for men over 18 years of age will be open 24 hours daily, along with Woods Mullen Shelter for women over 18 years of age.
The Engagement Center on Atkinson Street will also be open with extended hours from 6 a.m. to 7 p.m.
"I urge all Boston residents to take precautions, stay warm and safe, and check on your neighbors during this cold emergency," Mayor Wu said in the city's press release.