When you don't want to haul to the library on a Sunday afternoon or rise and shine on a Wednesday, when half of the week is behind you but you still have half left, what is more empowering than the potential reward of a coffee?
At confirmations and graduation parties, I heard the same caffeine speech from relatives and friends when it came to moving to the city: "Be careful! Caffeine is dangerous. One coffee every other day for two weeks is enough to get you hooked for a year." 
I didn't take note of my family's warnings. I was too overconfident when it came to my tolerance for caffeine. I figured that if I could go 18 years without a single drop of a bitter attack on my tastebuds, I could make it through a semester without falling victim to the magical lure. Right? Wrong.
Not only did I get hooked, but it ran my dining points up the wall by the end of October (sorry, mom and dad.)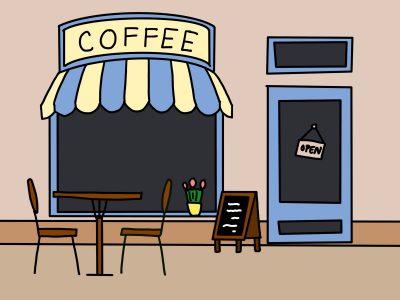 I look back on how the coffee shop business has evolved and find one shocking result: business is booming more effectively than ever. Lines on Grubhub form at Saxby's in the new, state-of-the-art Center for Computing and Data Sciences, and the Starbucks at the George Sherman Union. But why? Gen-Z — we are to blame, and there are three simple reasons.
Social media
There's no better pastime than scrolling through your perfectly curated explore page on Instagram or TikTok while you read the widespread trends cemented within your age group. 
I haven't been able to hop off TikTok recently. One particular trend of romanticizing your life heavily features vlogs from college students — including day-in-the-life videos,  morning routines, and my favorite, the "come study with me" craze. 
The thought of studying is strenuous, but college content creators have found the remedy to turn a tedious task into something more comfortable. With their calming audios, content creators argue that the coffee shop is the closest thing to a home away from home. And considering the shops close-knit atmospheres, comfy pillows and pastries resembling mom's homemade baking — I would have to agree. 
Television and film
January 2023 might as well be the month of the "Gilmore Girls" comeback. After being featured on Netflix, everyone seems to be coming back to this seven-season drama set in a Connecticut town about family and friendship. The relationship between mother Lorelai and daughter Rory is heartwarming — notably for their daily trips to Luke's Diner and their order: a cup of coffee. "Gilmore Girls" symbolizes the coffee shop as a place for affection and friendship.
Ralph's Coffee, the coffee shop depicted in the 2021 "Gossip Girl" reboot, welcomes fans and offers an authentic experience reminiscent of the show. It's only a matter of time before Boston coffee shops catch on to this marketing tactic and begin making features in television and film.
Convenience and evolutions
Convenience is the low-hanging fruit of this list. Picture this: You invite a friend from a far-away college to spend the day with you in Boston. You're both the indecisive, lowkey type and you're looking for a relaxing outing on a chilly winter evening. You look around and see a quaint coffee shop around the corner. You step inside, chat and realize it's been three hours. Sound familiar?
That's the magic of coffee shops! They're so convenient. The city of Boston prides itself on being the tenth most beautiful city in the nation, according to Forbes. What better addition to the cobblestone paths than a coffee shop on the street corner? 
Years ago, menus were restrictive — sticking to the classic espresso, cappuccino, latte or affogato. Now we are presented with an endless array of concoctions — from white chocolate mochas to iced caramel macchiatos to sugar cookie almond milk lattes. My personal favorite is the hazelnut latte. With such a giant menu, a personal favorite is guaranteed.
Coffee joints like Thinking Cup, Tatte, Caffè Nero, Starbucks, Caffè Bene, Bluebottle and many others are waiting to welcome you with open arms. We truly have it all in Boston when it comes to needing a caffeine escape. Grab some friends and get lost in the atmosphere coffee shops present to you. I'm talking to the most stressed category of humans out there: busy college students.