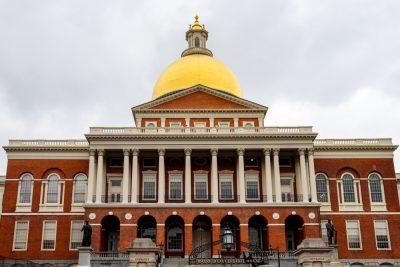 Massachusetts legalized retail sports betting, effective Jan. 31 at each of the state's three full-service casinos. 
"I appreciate the fact that so many people did come out [to the launch] and they're excited to wager legally," said Tom Mills, communications director for the Massachusetts Gaming Commission. "The fact that we're able to regulate this industry means that we can make sure that there are consumer protections and responsible gaming measures in place."
More than a dozen bills attempting to legalize sports betting had been presented to the Massachusetts legislature from 2019 through 2021 but none passed. 
Bill H. 5164 was finally voted into law on Aug. 1, 2022, introducing regulated sports betting. The law set a 15% tax rate on in-person sports betting and a 20% tax rate on mobile sports betting.
Bill H. 5164 contains several provisions to try and mitigate any negative effects the legalization of sports betting may have on collegiate sports and athletes. It will remain illegal to wager on the outcomes of matches involving institutions of higher education located within Massachusetts, except under the condition that a Massachusetts-based college or university is participating in a tournament involving four or more teams. 
Additionally, the bill provides for the creation of the sports wagering research agenda, which will inquire into the economic and social effects of legalized sports betting — including "an assessment of the impacts of sports wagering on college athletics and professional sports." 
Mills said the Gaming Commission has had public meetings every single day since December to prepare.
"Six months is a pretty quick turnaround to stand up a whole new industry," Mills said. 
The legalization of sports wagering includes different levels of licenses. The license approved on Jan. 31 is a category one license, Mills said. A category three license, which is online or mobile, is targeted to go into effect in March.
"It's more than just flipping a switch," Mills said. "There's over 250 regulatory issues that the commission needed to address."
Up until five years ago, sports betting was legal only in Nevada, but Massachusetts is among 32 other states and the District of Columbia which have legalized the activity since 2018 — when the Supreme Court overruled the Professional and Amateur Sports Protection Act (PASPA).
Rep. Ron Mariano, speaker of the Massachusetts House of Representatives and one of the main politicians who helped finalize the legislation, tweeted back in August 2022 that sports betting in Massachusetts will be an "incredible economic opportunity." 
Gambling has long been a lucrative enterprise in Massachusetts, with Bay Staters purchasing more lottery tickets per capita than residents of any other state. 
It begs the question: how will introducing sports betting to an already popular arena impact the prevalence of gambling and exacerbate its many problems?
"Sports betting participation among Massachusetts adults is already at or above the level in other states that legalized sports betting in 2018 — so the impact of legalization in Massachusetts is not likely to be dramatic," wrote Rachel Volberg, a research professor of epidemiology at the University of Massachusetts Amherst and specialist in gambling research, in an email.
She said, however, that certain groups will be disproportionately impacted due to having too much, or a lack of, gambling experience. 
"Adolescents, young adults, college athletes, women, immigrants and individuals who have experienced gambling problems in the past," were the groups cited by Volberg as being at the highest risk.
Phil Sherwood, chief communications officer at the Massachusetts Council on Gaming and Health, said he believes Massachusetts does not have enough resources to treat those with gambling addictions.
"As progressive as the Commonwealth is in treating gambling as a public health risk factor, funding does not meet the demand, not even close," said Sherwood.
Mills said that voluntary self-exclusion was implemented before the launch, allowing individuals to bar themselves from being on a casino floor for a set amount of time or indefinitely.
Sherwood, however, said he would like to see voluntary-self exclusion also be applied to those who use scratch or lottery tickets, adding that it would be "a little more challenging" to regulate across the many vendors in Massachusetts, but "possible."
"A lot of folks use gambling as an escape," Sherwood said. "It's a dopamine rush, like winning a big video game … that really puts you at risk for gambling way more than you want to."