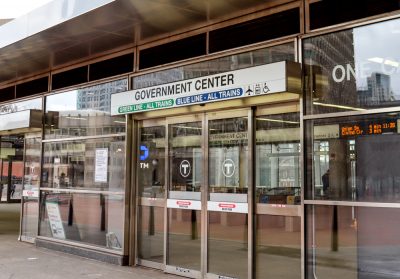 The Massachusetts Bay Transportation Authority's Red, Orange, Green and Haverhill Commuter Rail lines will experience service changes and shutdowns throughout February due to construction and maintenance at the Government Center Garage as well as track and maintenance work. The upcoming shutdown will occur this weekend on the Orange and Green Line.
"The MBTA has been working closely with the City of Boston and the developer in order to accommodate the private Government Center Garage work affecting both the Orange and Green Lines," according to a Jan. 2 MBTA press release.
The Green Line will be suspended between Government Center and North Station this weekend, and the Orange Line will shut down between Ruggles Station and North Station, according to a Jan. 26 MBTA press release. 
Free and accessible shuttle buses will be available for riders affected by the change, with services continuing to be available Feb. 11, 18 and 19, from start of service until 8 p.m.
During the weekend of Feb. 25 and 26, Red Line services will change in order for the MBTA to perform power, lighting and drainage work near Alewife as well as rail replacement near Harvard. 
The Haverhill Commuter Rail services will also be affected from Feb. 4 to 12 between Haverhill and Reading to perform Automated Train Control work. 
Demolition at the Government Center Garage is in progress this weekend. HYM Investment Group, the real estate firm responsible for the demolition of the Government Center Garage, is also constructing residential buildings and office towers in the Government Center area as part of the Bulfinch Crossing project. 
Emerson College freshman Erin Locke said that although her route is not affected by the changes, others may have to adjust.
"I can see it being a huge inconvenience for the people that [use that section of the Green Line]," Locke said. "If you have to go to work or something, you have to plan for that, and it's definitely going to mess things up."
Reshma Subramonian, a Boston University junior in the College of Arts and Sciences, rides the T every week, and was unaware of the service change.
"This is interesting information I have to add into my upcoming life," Subramonian said. "I think it's going to negatively affect a lot of people."
The MBTA is working on replacing many of its cars, tracks and conducting other necessary maintenance work, according to a virtual MBTA Board of Directors meeting on Jan. 26.  
The CRRC MA project is a partnership with China Railroad Rolling Stock to help design and manufacture subway cars for the MBTA. The project has been in the works since 2014, with 78 Orange Line and 12 Red Line cars being delivered so far out of 284 total cars promised. 
"Above and beyond…is our safety and our safety culture, and that is again my responsibility to continue to drive that, and drive the lasting change for the T's safety and our safety culture," MBTA Interim General Manager Jeff Gonneville said in the meeting on Thursday. 
Completion of Orange Line car delivery is expected for Dec. 2023 and Red Line cars for Sept. 2026, according to the meeting.
"We need to find a way to balance our maintenance work and the maintenance needs that we have within our system," said Gonneville. "When you begin balancing all those needs, and also operation staffing levels, then it becomes a puzzle that is complicated and needs to get put together in order to think about a diversion calendar."