The Boston University men's basketball team fell to the College of the Holy Cross on Wednesday night 70-82 at Case Gym.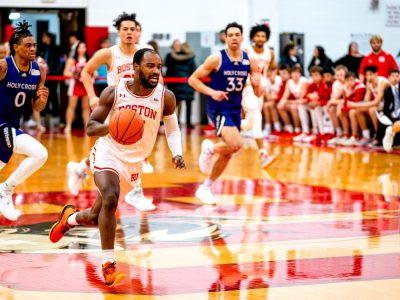 The Terriers (10-14, 3-8 Patriot League) were simply "outplayed" by the Crusaders (8-16, 5-6 PL), said BU head coach Joe Jones, as they dropped their third-straight game and seventh of their last eight.
"I have to take responsibility, as well as our players, for the fact that we're not playing good basketball," said Jones.
Holy Cross freshman guard Will Batchelder sank a three-pointer 30 seconds into the game, and BU never gained the lead.
Batchelder had a strong outing, especially beyond the arc. He shot 5-5 from deep en route to a 21-point performance, only missing two shots from the field throughout the game. BU had very few answers for his offensive attack. 
"We talked about [Batchelder] a lot, but we didn't do a great job of closing out hard enough to him," said Jones. "He's a terrific young player."
BU was down 47-29 at halftime, as the defense struggled to slow down the Holy Cross shooters. The Crusaders knocked down nine threes on 16 attempts. Over half of their attempted shots came from beyond the arc in the first half.
"We looked like we were in slow motion in the first half," said Jones. "We looked tired."
The Terriers began to claw their way back in the second half and cut the Crusaders' lead down to six points with just under five minutes left to play. However, that was the closest BU got to gaining the lead in the second half. 
"We get down, we don't give up and then we [fight] back," said Jones. "When you're down, whatever we were at halftime, it's just hard to overcome that deficit."
Senior forward Nevin Zink was one of the few bright spots for the Terriers, practically carrying the offense. He scored a career-high 25 points in only 24 minutes on the court. It was a bounce-back performance for a player who has struggled with his health last season.
Crusaders junior guard Joe Octave countered Zink's performance, scoring 27 points — including seven three-pointers — in 34 minutes of play. He led both teams with a +14 plus-minus differential as well.
Three-pointers were a big issue for BU on both offense and defense. While the Crusaders shot an impressive 59.1% of threes made, the Terriers were only to hit 17.6% of their long-range attempts.
Graduate guard Jonas Harper seemed to be the only Terrier with any sort of answer to the Crusaders' blazing-hot offense. Harper finished the game with five steals in addition to 14 points. He was the only Terrier to have a positive plus-minus differential.
The Terriers will travel to Baltimore, Maryland as they look to break their PL losing streak against the Loyola University Maryland Greyhounds on Saturday at 5 p.m.
"I refuse to believe this is the best we are," said Jones. "We're all better than this. We have to figure it out."