The term "champion" in the world of sports isn't used lightly. Each sport crowns a singular champion, signifying which team or athlete is the best. Well, not every sport is like this. In boxing, the word "champion" is thrown around lightly, as the path to becoming a true champion is more complicated than meets the eye.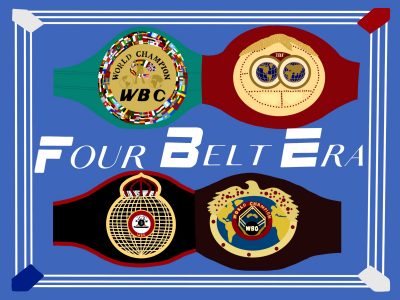 In each weight division, there is a possibility of up to four champions. Each belt is one-fourth of what it takes to obtain true champion status. Someone holding two or three belts is labeled a unified champion, and someone who holds all four belts simultaneously is known as the "undisputed" or "true" champion. The order these championships are acquired in doesn't matter, nor does the number you can win in one bout.
Why does boxing have four championships per weight class?
Each bout must be approved and regulated for it to occur. The organizations that carry out these processes are called sanctioning bodies. In boxing, four main bodies sanction fights: The World Boxing Organization (WBO), the World Boxing Association (WBA), the World Boxing Council (WBC) and the International Boxing Federation (IBF).
On top of approving and regulating bouts, these four bodies also sponsor championship fights, where they provide belts. Each sanctioning body also ranks the top 15 fighters in each weight division.
On the surface, the current structure of four belts per weight class isn't difficult to comprehend. Unfortunately, on top of the four recognized belts, the four main bodies have additional titles, diminishing what it means to be a champion.
Why do these bodies provide secondary belts?
The answer is simple: money. These prideless secondary belts are a cash grab for the major sanctioning bodies. It's essential to mention that promotions and the fighters both benefit from secondary titles. Fighter purses are bigger and promoters can profit more.
The four main bodies populate the boxing market, but other organizations offer unofficial world titles. The most notable body that provides non-recognized belts is the International Boxing Organization (IBO). Several current unified champions, including Oleksandr Usyk and Amanda Serrano, defend their IBO title, even though it isn't recognized.
As if this issue wasn't disappointing enough, the system has created multiple tiers of champions. Many athletes can be found boasting their secondary titles, claiming to be "champions," which diminishes those who are actual champions.
Boxing has gotten so diluted that the terms "champion" and "titleholder" mean two different things. 
When a title is vacant, one doesn't have to defeat a champion to simply claim the title. When a fighter wins a vacant title fight, they become a "titleholder." To earn the title of "champion," one has to defeat an opponent who holds a title. In simpler terms, to become a champion, you must defeat a champion.
What should be done to combat this issue?
When it comes to people actually in the ring, Chris Mannix said it best. While calling a fight with one of the WBA's secondary titles on the line back in 2021, Mannix proclaimed that boxing organizations have become obsessed with money over the sport and, until these sanctioning bodies "clean up" the damage they have dealt this sport, fighters should simply get rid of their titles.
What will be done?
Unfortunately, change is unlikely. Change needs to come from within, but it's difficult to imagine fighters relinquishing their "titles" in protest, which will affect their fight purses.
Providing a glimmer of hope, top-level fighters are once again interested in fighting one another, which boxing has lacked in recent years. If these fights can be made, especially co-promoted bouts, there is a possibility for a fighter-led resurgence of the sport's credibility.
But, until fighters back up their talk, until promotions co-promote big fights, and most importantly, until sanctioning bodies stop their greedy practices — boxing will lack credibility, and worse, integrity.