"Everyone genuinely wants to be there," said Zowie Rico of Wandering Minds, one of Boston University's smallest theater groups. "And everyone is doing theater because they genuinely love to do theater."
Now a senior and the president of Wandering Minds, Rico is celebrating their last semester with one of BU's only theater groups, which focuses solely on "straight plays," a term meaning no musicals. Rico said the group does "any genre," from drama to comedy and the supernatural.
"Honestly since the very first general meeting, I was like, 'that is what I wanna do,'" Rico said.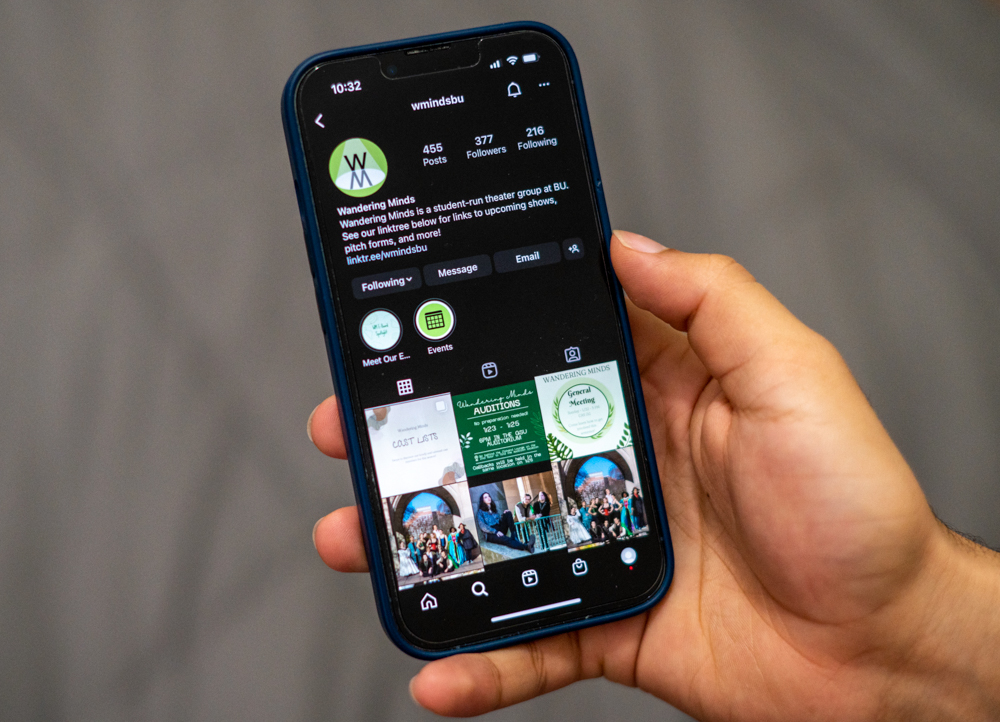 Rico said their favorite part of the semester is rehearsal because "everyone becomes such good friends very quickly."
"It's not because it's their major, it's not because it's a career path, it's because they have a genuine passion for the art," Rico said.
Rico said one of the group's goals is to make theater "accessible."
"We want to make sure everyone is in a comfortable, welcoming environment," they said.
That accessibility was the very reason the club was founded. Established in 2000, Wandering Minds promotes theatrical development in all facets of production: from acting, to directing, to set design.
Rico said they learned many elements of technical theater such as directing a show and building and painting sets. They even learned how to use power tools for the group, which they said was "very fun."
For Walker Pitts, a freshman at BU who performed in a play directed by Rico last semester, the organization has allowed him the chance to dive into a once unfamiliar field: directing a play.
"It's definitely been a new experience," Pitts said. "There's a lot that goes into directing that you don't necessarily think about. At least I didn't necessarily think about when I first signed up. But I've been taking each challenge as it comes, and I think it's been very enlightening to see what a director has to go through to get a show from just being a script to being onstage."
Pitts is directing "The 39 Steps," which is based on the Hitchcock film of the same name. This play, like all performances by Wandering Minds, was decided upon democratically.
"We're definitely a very collaborative and community centered group," said Taylor Caroom, Wandering Minds' vice president.
Caroom said any student with a semester's experience in any part of the group can pitch their own play. To pitch, an aspiring director first fills out a form, which is reviewed by the e-board, who scans it for ethical or production issues. After passing that check, all Wandering Minds members have the opportunity to vote on their play of choice.
Caroom said the group embraces all pitches brought to the attention of e-board, whether someone wants to put up a "big production" or host a festival.
"It's really fun to let everyone in our community have a creative outlet," she said.
Pitts said that he initially pitched "Clue," but the rights "were very hard to attain." While Pitt's original pitch was accepted by the group, the trouble with the rights necessitated a pivot, but Pitt's isn't the first BU thespian to run into trouble with the whodunnit.
"'Clue' has been cursed for the last three years," Rico said.
According to the president, the show has been pitched twice for Wandering Minds and once for Stage Troupe, another BU theater organization, with the rights out of reach.
"It's now like a running joke," Caroom said.
The flexibility of Wandering Minds' pitching process extends to the nature of its plays. In the past, directors have played with the setting to make shows their own.
"For something like 'The Importance of Being Earnest' I decided not to have it be a period piece, I decided to have it have more of a timeless look to it," said Rico, who directed a 2022 production of the Oscar Wilde play. "So that one we approached a little bit like a modern show."
Unlike other many student-run organizations at BU, Wandering Minds does not charge dues for its members.
"We don't have the funds that the bigger groups do and so it definitely is a little bit more of a challenge," Rico said. "It just means that our shows are a lot more homemade, and it just teaches us to be a lot more resourceful."
Pitts said he doesn't think money has "held back" the way he approaches his directing.
"I think you just have to get creative," Pitts said.
For Caroom, Wandering Minds made everything "click."
"They're the group of people that really made BU feel like home," Caroom said. "You always hear people say, 'Once you find your group, college will start to click.' Wandering Minds was definitely the group that did that for me."