The Boston University men's and women's track and field teams competed in the elite distance medley relay (DMR) on Friday as part of the 2023 Bruce Lehane Scarlet and White Invitational, hosted by Boston University at the Track and Tennis Center.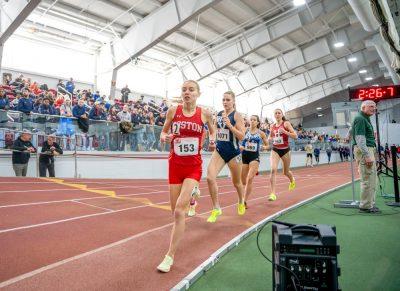 BU's men's DMR team placed fourth out of the five-team field, recording a time of 9:45.01 which is just under four seconds shy of a school record. Meanwhile, the women's team placed fifth out of six with a time of 11:19.21.
"We competed well, we had a few people that were dinged up," Director of Track & Field Gabe Sanders said. "We actually put it to one of our teams [asking], 'hey do you think we're ready to go tonight, even though we're not at full strength?' And they said, 'yeah, we want to compete.'"
Both the men's and women's teams weren't at full strength going into the race. Men's senior distance runner Foster Malleck was absent due to COVID, and women's graduate sprinter Emma Montoya was sidelined by a mild calf strain, Sanders said.
"Anytime you have to make a last-minute change, it's unexpected," Sanders said. "Changes like that throw off the main plan, but I thought the groups that did run stepped up."
Freshman sprinter Logan Popelka slotted in for the men's team, and freshman distance runner Vera Sjöberg stepped up for the women's team. Popelka, who usually runs the 400-meter, was placed in the 400-meter leg and put up his fastest split of the year at 46.5 seconds. 
Sjöberg, who typically runs the 800-meter, ran the 1200-meter leg for the Terriers and improved her own 800-meter time within the race by a full second while keeping the Terriers in fourth place. She was just under 2 tenths of a second over the school record for the event, the third-fastest 1200-meter performance in program history.
Sanders said it was a "new initiative" to have the DMR races on its own day, with the remainder of the races taking place on Saturday. This initiative is to "highlight and make [the DMR] the premier event" of the night, assistant coach Jordan Carpenter said.
"Also, it gives all those athletes the opportunity to double back tomorrow and run open events to try and set national marks," Carpenter said.
The team that got the most attention at the DMR was the University of Washington's women's team, who posted a collegiate record at the meet by running the fastest DMR in NCAA history at 10:46.62, beating the University of Oregon's 2017 time. Maurica Powell, Washington's director of track and field and cross country, said they benefited from practicing and performing on the banked 200-meter track.
"We don't have a lot of opportunity to practice running small turns in a small track," Powell said. "If we're going to go practice at [a banked track], pick the fastest one." 
Powell said she felt Washington would take the collegiate lead at the meet, but "the collegiate record was a surprise and a special thing." 
Due to the Huskies' record-setting run, Sanders called the meet a "resounding success." 
"Anytime you have a collegiate record, it was a pretty good race," Sanders said. "We had some good performances, it was just a good atmosphere."