The Boston University softball team kicks off the 2023 season on Thursday when the Terriers play Saint Joseph's University and Illinois State University in a doubleheader as a part of the USF-Rawlings Invitational.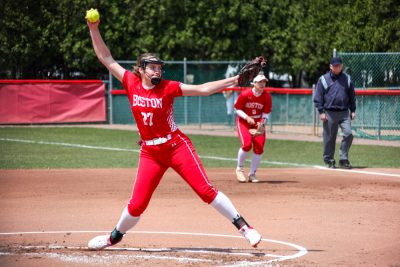 Senior pitcher and utility player Lizzy Avery is vital to the team's success this season. The Daily Free Press caught up with Avery to discuss softball, academics, her journey and what she enjoys off of the field. 

When did you start playing softball?
I started playing softball when I was around 6. I guess I've always been into sports and I just passed by the park one day. I was going through that little kid phase of trying everything and I just kind of stuck with it. 
Who is your favorite softball player?
Amanda Lorenz, she went to Florida. She graduated and now she's doing the pro ball thing a little bit. I like everything she does. I like who she is as a player, how tenacious she is. But also off the field, I feel like she's a great person.
What is your favorite baseball team?
My mom is from Boston, so the Red Sox, definitely. I'm not huge into baseball, but I definitely like all the ways they're changing the sport to make it faster. I feel like that's why I like softball and watching softball — because it's so fast.
What are you thinking when you get in the circle?
I'm trying not to think too much, to be honest. I feel like when you start thinking too much, that's when things start going downhill. I'm just trying to be competitive. I don't need to strike everybody out. I just need to play my game and stick with the plan.
Do you have any game-day superstitions?
I don't think I do anything specific. I feel like I do everything in the same order. I definitely go get my coffee, get dressed in the same way. But I don't do anything specific. I don't braid my hair a certain way or anything like that. 
Which games are you looking forward to most?
We're definitely looking forward to Florida this weekend. That'll be a big game. They're like fifth in the country off the bat. And then obviously, Lehigh is our last league series and we're looking for some redemption there.
Who is your funniest teammate?
Oh, gosh, they're all funny in their own different ways. Kayla Roncin is the sneaky funny one. I feel like everyone looks at her and thinks she's quiet but she's really got the jokes on the inside. 
What is your favorite thing about BU?
I love everything about being at BU. I love the intermix of athletics, academics and overall being in a city environment where anything is at your fingertips. 
As a biomedical engineering major, what has been your hardest class so far at BU?
All of them. Probably the hardest one I've taken so far is heat transfer. Not my favorite one. It's about how thermal energy and all that stuff works. So it's a lot of math.
My dream job is to work for myself and just make biomedical instruments. I really want to make blood one day, like outside of the body, end blood shortages and all that. But that hasn't happened yet. We'll see.
What's your favorite memory from BU?
I think when we won the championship my sophomore year, just because there's nothing like having that experience with your teammates and the entire culture about BU softball is great. And then we obviously got to go to a regional, so that was really cool.
Who's your throwing partner?
Allie B. Allison Boaz, No. 8. We both throw overhand and underhand together. So that's my throwing partner.
What would your last meal on earth be?
You know, Audrey Sellers loves to ask me these kinds of questions, so I feel like I'm prepared. It's definitely Indian food. I love Indian food. I get it every week and I think I got to go out with it too.
What do you miss most about northern California?
Probably my family. I guess that's the basic answer, but I don't know. I feel like this city kind of gives me the same vibes as home, but my family is there still.
If you could travel anywhere in the world, where would you go?
Spain. I don't speak Spanish, but I really want to go to Spain for fun, for the summer.
What is your favorite thing to do on an off day?
Lay down. I joke with Caitlin Coker that my favorite pastime is laying down and getting to relax. I like to just chill and read.
[Avery is currently reading Harper Lee's "To Kill A Mockingbird"]
What's on your bucket list?
Bungee jumping is on my bucket list. I want to travel. I want to go [to] a lot of places. I don't know, I guess I don't really have a set bucket list. I just will go wherever the wind takes me.
If you could live in a movie, which one would it be and why?
I feel like I watch a lot of dystopian movies, so that's really throwing me off. I don't want to go into a place [where] I'm going to die. I would go to… oh gosh, that's tough. I guess all I can think about is the Hunger Games and I really don't want to go there. That's tough. Pass.
No. It's a taco because it's bread on three sides. I was asked that question last week. That's the only reason I have my answer so fast.
Just to stick with it and trust the process. I feel like I used to always put a lot of pressure on myself, and even now I still do. Everything that's going to come is going to come and when you press too hard, it doesn't make it come any faster.