The first weekend of February 2023 will certainly go down in history books — proving how unpredictable and unforgiving Boston weather can be. 
I would like Mother Nature to apologize for giving us an abnormally warm winter without snow and then a weekend of relentless winds and arctic temperatures. She almost knocked me off my feet walking to class. 
The weekend revealed a new pastime — revisiting my favorite childhood young adult novel series. Sitting in my dorm room all Friday and Saturday, I perused through a collection that reminded me of visiting the Scholastic Book Fair at my elementary school. I remember the excitement on my mother's face when I would come home and give her an impromptu book haul.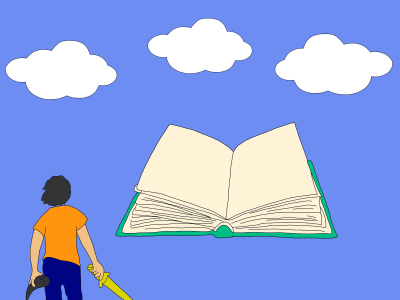 Such books gave me an escape from the stress of the weekend weather and homework. I'd like to share some books with you as a potential escape for weekends to come.
"The Land of Stories" by Chris Colfer
"The Land of Stories" is a children's fiction, adventure, and fantasy series written by the author, actor, and singer Chris Colfer — known for his role as Kurt Hummel in "Glee."
The six-book series consists of "The Wishing Spell," "The Enchantress Returns," "A Grimm Warning," "Beyond the Kingdoms," "An Author's Odyssey" and "Worlds Collide." Colfer tells the story of Alex and Conner Bailey, two twins battling the loss of their father. Their grandmother gives them an old storybook their late father cherished, and they discover that the book is a portal to another dimension governed by fairy tales. 
To avoid spoilers, I won't give away the full plot, but I will provide an introductory summary of the first book, "The Wishing Spell." After Alex and Conner jump into the book, they feel trapped and pressured to go back to their world. The two find out that the only way to return to their world is through the Wishing Spell, composed of various items highly cherished by every kingdom — including Cinderella's glass slipper and Sleeping Beauty's spindle. The Evil Queen from "Snow White" is also looking for the Wishing Spell. The spell can only be used twice, and if the Evil Queen gets it first, the twins are trapped forever.
"A Series of Unfortunate Events" by Lemony Snicket
The gothic and absurdist fiction "A Series of Unfortunate Events," provides an eerie setting perfect for a child's imagination. Written by Daniel Handler under the pen name of Lemony Snicket, "A Series of Unfortunate Events" is a collection of 13 children's novels. The books are noted for their dark humor and sarcastic storytelling and follow the main characters: Violet, Klaus, and Sunny Baudelaire. This trio is placed in the hands of a murderous relative, Count Olaf, after their parents die in a fire. These books are for you if you like coming-of-age series with aspects of a secret society.
"Percy Jackson & The Olympians" by Rick Riordan
When you meet a philosophy, theology, or religion major, ask them why they are interested in what they are studying. I'm sure at least one of them will mention Rick Riordan's "Percy Jackson & The Olympians." The first novel, "The Lightning Thief," released in 2005, launched a five-book fantasy series that took the world by storm.
The novels are set in a world where Greek gods in the 21st century follow Percy Jackson. Percy is a demigod, part-human and part-supernatural. He must defend his people against the Titans, pre-Olympian Gods led by Kronos. Kronos and the Titans want to destroy the modern world. If you are a big fan of anything mythological or action-packed, do not hesitate to yank this series off the shelves and dive in.
Do you know the saying there's nothing like a batch of mom's homemade cookies? A good dose of nostalgia from reading a fantastic childhood novel is like that. If this winter season has left you homesick or if the looming adult life is pestering you — show yourself some grace. Lay down for an hour and read.