The Boston University women's basketball team (17-6, 12-0 Patriot League) won their 12th consecutive game on Wednesday, defeating American University by a score of 59-40. This win is the first time the team has ever defeated the Eagles (5-18, 4-8 PL) in Washington, D.C.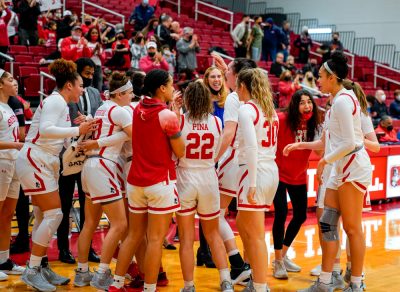 The Terriers came out with a flying start against the Eagles, scoring 22 points in the first quarter and holding American to 14 points in the first half. Head coach Melissa Graves called the game a "great defensive effort."
"Last game, we had to switch to a zone because we were struggling," said Graves. "I'm really proud of the fact that we were able to stay in man and cover the way we wanted to cover."
She attributed their success to the team's ability to learn man-to-man defense, a defense Graves said the women's team "had never played man before [she] got there."
Leading the scoring for the Terriers was senior guard Sydney Johnson, who scored 16 points with two 3-pointers and six free throws. Sophomore guard Alex Giannaros also scored in double figures for the Terriers, supplying the team 12 points with a 3-pointer and three free-throws on three attempts.
On the defensive side, senior forward Maren Durant suffocated the Eagles in the paint, securing seven defensive rebounds. Senior guard Maggie Pina also played tough defense, recording four rebounds and three steals. 
Graves' biggest takeaway was the team's ability to play man-to-man defense. Graves also mentioned how the offense looked to be struggling at times, with the Terriers getting outscored in the fourth quarter and accumulating 23 turnovers.
"I wanted to limit our turnovers," she said. "I think offensively we should've done a better job scoring."
Despite an underwhelming offensive performance, BU has now won 11 of their last 12 games by double digits. 
"Our offense has just been really on," she said. "That's a tribute to their work that they put in off the floor, getting shots up, getting film work [in]."
Graves attributes the team's success to their ability to show up on both sides of the court. 
"They've really done a good job of locking into what has got us here," said Graves. "Those are all the offensive pieces of working together, movement on penetration, sharing the basketball, getting the ball inside, those sorts of things, and then they've stayed locked in, too, defensively." 
Graves went on to compare the present team to last season's.
The Terriers look to continue their win streak as they take on Lafayette College for their Senior Day and Pride Game on Saturday at 2 p.m. in Case Gym. 
"We're much better than we were last year," she said. "We're in a much better place."