After a disappointing 2-15 season that had the women's lacrosse team finish last in the Patriot League last season, the Terriers aim to improve in the 2023 season, which starts Saturday afternoon on Nickerson Field against Merrimack College. At the helm is head coach Lauren Morton, who is entering her fifth season.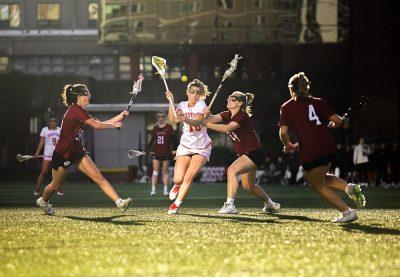 Preseason All-Patriot League team selection Jen Barry to continue draw control success
Senior attack and midfielder Jennifer Barry set the all-time and single-season draw control records for the program with 156 last season. Morton would like to see Barry also take on the responsibility of having an offensive presence.
"She's going to be a big focus. We have to be able to respond and answer that," Morton said. "Jen being able to make adjustments and to be able to find success [will be important]." 
A deeper offense is on the horizon for veteran Terriers
Sophomore attack Matty Spaeth led the Terriers in goals with 29 in their 2022 campaign, and senior attack Lauren Kaye had the most points for the team with 42. 
With a majority upperclassman team, Morton is looking for production from other attack and midfielders as well, instead of just relying on Spaeth and Kaye.
"We anticipate [senior midfielder] Claire Gola being able to step up, [attack] Hannah Tillier being able to step up, who's a sophomore this year and has really had a phenomenal preseason. Similarly, [attack] Tobey Tick, who's now a junior," Morton said. "We were hopeful just in terms of having a high-powered offense … so that all of the load is not on [Kaye] and [Spaeth] this year.
Freshman class to make an impact early while learning from veterans
BU is stacked with upperclassmen like Barry, Gola and Tick that will drive the development of the incoming freshman. 
"We obviously return a lot of people which has been a huge benefit for us, [and] I think with that comes a lot more experience and just a higher confidence level overall," Morton said. 
Morton has high expectations for the eight freshmen that joined the program and sees many getting time in their season opener.
"Their work ethic is something that's really been outstanding," Morton said. "We've been really impressed with their competitiveness and their hunger. They're a group that works really hard."
BU is taking things one game at a time
While the season ahead is headlined by powerhouse Boston College and an early-season trip to South Carolina, Morton said they're looking at the game right in front of them. Following the trip south, the Terriers will begin league play soon after on March 11 against Army West Point. 
"Our consistency is going to be the most important," Morton said. "The Merrimack focus is definitely first and I think for us being able to play a complete game is definitely a big focus."
Morton emphasized the importance of the basics for her team this season.
"Continuing to be great at the little things that really separate you, whether that's ground balls, whether that's draws, whether that's our shooting, I think that those details are going to be important," she said.