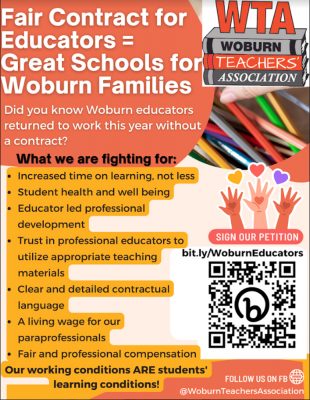 Woburn Teachers Association must pay a $225,000 fine to the city following a five-day strike for better working conditions.
Woburn teachers started striking on Jan. 30, demanding higher wages for teachers and paraprofessionals and improved educational standards. After a week of canceled classes for almost 4,300 students, the strike ended on Sunday after the teachers reached an agreement with the Woburn School Committee and Woburn Mayor Scott Galvin.
The Woburn Teachers' Association — which represented the striking teachers — must pay the $225,000 fine to cover costs due to the strike, such as police details, school lunches and presenters, that the city covered, according to the agreement. The deal also includes a 13.75% salary increase for teachers, 10 more minutes added to their workday and smaller class sizes for the fourth and fifth grades. 
President of the Newton Teachers Association Mike Zilles said the results of the strike were "remarkable" with the salary increases they achieved in the contract. 
In response to the WTA having to compensate the city for strike costs, Zilles called the premise of the fines "simply false."
"Sure, the Woburn Teachers' Association made the decision to go on strike, but the strike was the result of an inability to negotiate a reasonable contract with the school committee and the mayor," Zilles said.
Deb Gesualdo, a public educator and president of Malden Education Association who was present at the strike, said there was a lot of support from parents, caregivers and students over that week and only encountered one person who was "kind of negative."
"You hear mayors and some elected officials saying, 'Oh it's negative. Oh it impacts students. Oh it impacts families,'" she said. "But I think the large percentage of families actually support educators when it gets to the point that educators feel they need to take a strike action."  
Woburn public school parent Marianne Motroni  also attended the strike and said although she felt unhappy her children were out of school, she valued the lesson in civics they learned through participating in the strike. 
The issue of Woburn paraprofessionals' salary is particularly close to Motroni. She said her son, who uses a wheelchair, has had four paraprofessionals over the past three years due to the low wages they received. 
Paraprofessionals, who originally had a base salary of $22,000 a year, will now receive a 10.25% salary increase over four years, according to Sunday's contract. 
"[Pay for paraprofessionals] was kind of the biggest thing they were fighting for on strike," said Motroni. 
The Woburn strike follows similar teacher strikes in Brookline, Malden and Haverhill all in the last year. 
Gesualdo attributed this trend to a "toxic cycle of unending bargaining." 
"I think it's beneficial to school committees to actually have expired contracts," she said.
She explained that when school officials stall on creating new contracts, they do not have to address denied grievances or salary increases. This pushes educators to strike in order to provoke a response.
Despite the uptick in strikes across the state, Massachusetts state law prohibits teachers from striking. As a result, WTA had to pay an additional $85,000 fine to the state. 
In an interview with CBS, Massachusetts Gov. Maura Healy upheld the prohibition. 
"Every day when I see kids out of school because of a strike, my heart just breaks because kids have been through enough in terms of learning loss and the like," she said. 
For Zilles, striking can be a "cleaner and less disruptive" solution to labor concerns. 
"To go on for a year without a contract with standouts and work actions and going to the school committee, it's draining of people, and it's unhealthy for the morale in the building," Zilles said. 
Gesualdo agreed on the necessity of legalizing strikes and highlighted that picketing efforts were about more than just teachers' pay. 
Collective bargaining aimed to ensure that "workers have dignity and respect, our students have dignity and respect and their families have dignity and respect," she said.
Motroni said the strikes brought the community together in today's "disjointed" society. 
"These moments that I've had over the past week," she said. "I felt even more part of the community even though I've lived here my whole life."
CORRECTION: Deb Gesualdo was listed as an employee for Malden Education Association, but is the president of the organization.