The Boston University women's basketball team defeated Lafayette College 83-54 on Saturday afternoon on Senior Day. The Terriers (18-6, 13-0 Patriot League) maintained their undefeated conference record with the win and broke the program record for most single-season wins against Patriot League opponents.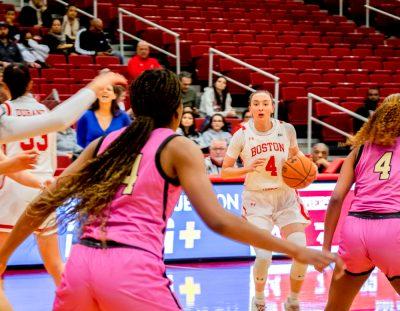 "[It was] a fun experience to celebrate the seniors in general, but then obviously to get the win on the home floor in front of all their families," said head coach Melissa Graves. "It's a special memory for them, so I'm glad we were able to do it and break our record in the process."
The game started competitively, and the Terriers eventually built a lead through their aggressive defense and counterattacks, ending the first quarter up 24-14. The Leopards (8-15, 5-8 P L) struggled to keep up, with their height deficit putting them at a disadvantage when defending the lane and the Terriers' corner threes.
Lafayette failed to address BU's three-point shooting throughout the game, allowing the Terriers to attempt an astounding 33 3-pointers. BU hit 10 of them, whereas the Leopards only shot 4-16 from three.
Graves said she believed part of the reason for Lafayette's defensive struggles stemmed from their short bench. With only six players suiting up, the Leopards had to play an unfamiliar zone defense for most of the game.
"They tried to take away our posts a little more, and it left some room for the 3-point shooters to be open," she continued.
The rest of the game saw the Terriers continue to widen the gap through solid defense and consistent offense. The Leopards were unable to respond and the game ended with a 29-point difference.
Junior forward Caitlin Weimar scored 21 points on 10-12 shooting from the field, and senior guard Liz Shean pulled down eight rebounds while adding 12 points. Graves said she had difficulty identifying one outstanding player because everyone played so well.
"I couldn't pick one person," Graves said. "I think everyone came in and contributed in a really good way."
The Terriers will look to continue their winning ways when they host the College of the Holy Cross at Case Gym on Feb. 15 at 6 p.m.