Starting this week, residents living at 14 Buswell St., the Medical School residence, and on floors one through six in 10 Buick St., will receive composting bins as part of a pilot program under Boston University's Zero Waste Plan.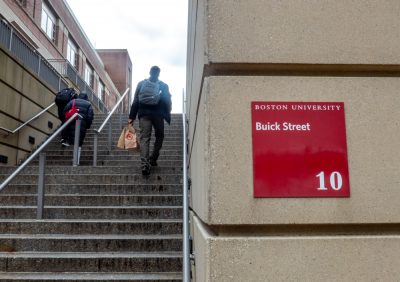 According to a Feb.10 email sent to select residents, the Residential Composting Pilot will be effective through the Spring 2023 semester and move-out period.
"[After Spring,] we will evaluate the success of the program. If things go well, we will expand to the next round of buildings for the Fall 2023," the Residential Composting Pilot FAQ wrote. "If we run into issues, we will utilize the summer to brainstorm solutions and evaluate changes."
Sam Moller, assistant director of Communications for BU sustainability, wrote in an email that the locations were selected because each apartment unit has a kitchen which will cause food wastes.
"We wanted to select locations that house both undergraduate and graduate students, so we would get an understanding of how each subset of students engage in composting efforts," Moller wrote. "We also selected a location on the medical campus, so we ensured we were piloting across the entire campus."
According to the pilot program's FAQ, it is estimated that 40% of the University's waste stream is compostable and BU is trying to build a robust infrastructure of composting across campus.
"These residential composting pilots are part of BU's broader Zero Waste Plan — which aims to divert 90% of the University's waste from landfills and incinerators by 2030," Moller wrote. "These residential pilot programs are a first step in keeping food waste from our on-campus residences out of our trash and recycling streams."
A third of solid waste in Massachusetts is recycled or composted, according to the state's department of environmental protection. The rest goes to landfills, "out-of-state disposal facilities" or incinerators.
Incinerating waste can create or release harmful chemicals and pollutants, which can cause lung and heart diseases, neurological diseases, cancer and other health problems, according to the Natural Resources Defense Council.
The FAQ acknowledged there were previous attempts at instituting composting programs in campus living facilities by BU.
"From previous pilots we have conducted on campus, we have learned that different areas of our campus will need very different solutions to be successful at composting," the FAQ wrote. "This individualized solution process takes time to identify and implement."
Students at StuVi-1 were notified to receive bins that will include enough compostable liners to last throughout the semester, and they will be delivered with a brochure that explains how to use them.
"I think it's an ambitious goal," said StuVi-1 resident Erika Cabrera, a junior in the College of Arts and Sciences. "I feel like a lot of students won't really abide by it, just because they have busy schedules and busy lives, but I think it's a good first step."
Hanchao Jiang, a senior in CAS, observed the financial and convenience impact the initiative may have.
"Most of the time we just buy our own trash bags, [but if] the residence can supply us with them, that can be very helpful," Jiang said.
Moller added BU's Zero Waste Plan wants to use this pilot as a building block for the future.
"We hope to learn what does and does not work for certain areas on campus when it comes to residential composting and how to best roll out similar programming to other locations on campus," he wrote. "As the pilots' progress, we will evaluate additional buildings to determine where our next phase will be."