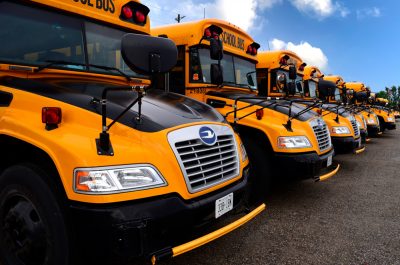 Twenty electric school buses will go into commission for Boston Public Schools on Feb. 27, Mayor Michelle Wu announced last Monday, a move towards green transportation that the city said follows in its commitment to the Green New Deal.
"From cutting down on emissions from every part of our education infrastructure — where our students learn and how they get to class — to preparing our next generation of workers to build and sustain cleaner, greener infrastructure for all of us, we're so excited about where this will lead Boston," Wu said.
The new buses will transport more than 2,500 students from 42 schools.
"When you see the green bird along with the plug, that is the future of our children, and the children that are riding inside of it are our future," BPS Superintendent Mary Skipper said.
BPS is working with drivers, driver trainers, mechanics, operations staff and emergency responders to make sure they are comfortable operating the new buses, it said in a statement.
This fleet of electric buses is funded by the BPS operating budget and the federal American Rescue Plan Act, according to the statement, and it plans on using federal funding from the Environmental Protection Agency and the Inflation Reduction Act, which provides funds to support EPA programs that seek to reduce greenhouse gas emissions.
"Specifically, the [Inflation Reduction Act] provides incentives to replace eligible medium-duty vehicles (e.g., school buses) and heavy-duty vehicles (e.g., garbage trucks) with zero-emission vehicles," the act states.
Maxine Hunter, coordinator for the West Roxbury Mother's Outfront chapter, said she appreciates Wu's goal of protecting young children who are most vulnerable to exhaust pollution.
"Diesel buses are incredibly polluting," Hunter said. "So getting those away from children and getting all that bus pollution out of the neighborhoods is just going to be terrific."
Fine particulate matter (PM2.5), an air pollutant that makes up 8% of diesel gas, was measured to be five to 10 times higher on buses, according to a study by the Environmental Research Institute University of Connecticut.
The health effects of diesel include, "asthma and respiratory illnesses and can worsen existing heart and lung disease, especially in children and the elderly," according to the EPA.
Diesel exhaust also leads to environmental issues such as acid rain, production of a ground level ozone, which harms crops, trees and other vegetation, and it contributes to climate change, according to the EPA.
"Kids are so terrified about climate change," Hunter said. "Something like electric buses is going to be a visible positive for kids, to see adults making a change."