I remember the days when I'd wake up in the morning, grab my phone and immediately go on Instagram or TikTok. I'd scroll around, falling into social media's deep hole, but I'd eventually find my way up again and get ready for the day. 
Nowadays, the first app I open when I wake up is LinkedIn. It's an easy platform to get lost in, and even though I haven't been using it for too long, the amount of time I spend on it makes it feel like I'm an expert now.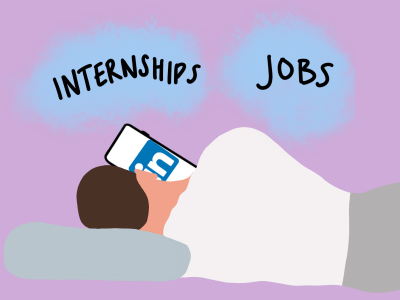 As a senior and someone who is desperately looking to start a full-time job right after graduation, I've been on LinkedIn more than I've been on my other social media platforms — which is saying a lot. I have some tips and advice for anyone who may still be unfamiliar with LinkedIn.
Make your profile stand out
This is a very generic thing to say, but it's the most important step if you want to make sure companies notice you. Have a profile picture and write in your bio. If you have a job or an internship, be sure to state that in your headline, so recruiters know you're more than just a student at a university.
Have as much activity as you can, whether that be posting opportunities you were able to grasp or congratulating others on new jobs. Your engagement will be seen by anyone who views your profile. 
Start following the companies that interest you
There's a difference between connecting with someone and following a company. Your connection network consists of friends and colleagues who know you professionally, and it's important to build this up in case you need advice or help. 
Following the companies that are relevant to your future job applications is even more beneficial. This way, you'll be able to stay up-to-date on any postings they may have and show that you're interested.
I follow huge companies like National Geographic, Vanity Fair and Disney. There's a good chance I won't be accepted into any of them, especially as my first job out of college, but keeping up with their news is worth something if you're interested in being one of their employees in the future.
More is better
LinkedIn has multiple sections for you to talk about your skills and your experiences. You can list the organizations you've been a part of, the languages you know, honors and awards you've earned, the courses you've taken — the list goes on. Make sure you fill those up. Even if it seems like a reach, incorporate them because it'll show that you're a more well-rounded candidate.
I can barely speak French. I did one volunteering extracurricular in high school, one of the easiest jobs I've ever done. Yet, I still made sure to include that in my LinkedIn.
Don't lie
It's tempting, I understand. When there's a job opportunity you want, I get the feeling of doing anything to make sure you stand out, but lying isn't the way to go.
Sooner or later, companies will find out. If you list down a skill you're unfamiliar with, it'll come back to haunt you later. You'll be scolded at work by your boss, or you might be fired. Any affiliates of that company will immediately turn you down, and it's not worth it. Exaggerating to a certain extent might be fine, depending on what it is, but never lie. 
While I'm a senior and constantly on LinkedIn, there are still many things that I'm not familiar with. I started using this app late last year, and I'm still trying to build my network.
Searching for jobs is probably the most difficult thing you have to do, and I wish you the best of luck. I constantly feel anxious, excited, and terrified every time I go on LinkedIn. But to anyone who needs to hear it, especially seniors: Everything will work out. We got this!