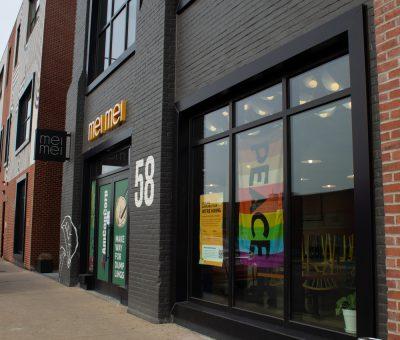 Mei Mei, a Chinese-American dumpling restaurant, relocated to a new location in South Boston on Jan. 21. The restaurant operates a cafe, cooking classes and, recently, wholesale production in their new dumpling factory.
Established in 2012 as a food truck by siblings Andrew, Margaret and Irene Li, Mei Mei later transformed into a restaurant in Fenway, according to their website.
Mei Mei business owner and James Beard award-winner Irene Li, who became the sole owner in 2018, decided to move Mei Mei to its new location to have more space for production.
"Our lease was coming up, and so we knew that we wanted to transition the business towards the packaged product," Li said, "And so we needed a lot more space in order to do that."
Like many small businesses, Mei Mei also faced financial challenges during the pandemic.
Li decided to close because she said she thought the business would be "climbing [their] way back" to where it originally started.
"When the pandemic hit, we had just paid off all our debt, and so to go back to that was a painful thought," Li said. "We figured we may as well just try something else."
In the summer of 2020, Mei Mei started distributing its dumplings in farmer's markets, after a longtime customer suggested the idea.
Mei Mei manager Laura Dyble, who primarily oversees the factory, said she began working at the Fenway space last year. Back then, she said the restaurant sold cold dumplings that were to be heated up at home.
"We're moving in this new direction, where we want to focus on just our dumplings and we want to bring our dumplings far and wide," Dyble said. "Eventually, we'd like to be in grocery stores and bring dumplings to more people." 
Ben Compaine, a professor at Northeastern University specializing in entrepreneurship and innovation, said the pandemic gave small businesses a chance to rethink their strategies and pull a "pivot."
"The pandemic has helped some folks by giving them an enforced sabbatical, in effect," he said. "It's given them the time to reflect and see if they wanted to continue [operating the business] the same way."
Another central aspect of Mei Mei's business are its cooking classes. Two hour classes are held either virtually or in-person in the classroom at Iron Works, teaching patrons how to fold and cook their signature dumplings. 
Li said she feels the classes provide an opportunity for people to build a stronger connection with Mei Mei and its story.
"[The class] helps people appreciate how challenging it is to make certain foods," Li said. "Most guest interactions might be 30 seconds. But if they come in for a class, we can spend a lot longer with them and they can get to know our business more."
Engineer Jinyan Zang was a first-time customer at Mei Mei and said the decor was "great" and "a lot more casual" than he expected. 
Cafe customer Cassandra Shavney, a manager at a consulting firm, said she enjoyed the large window into the kitchen where she could see everything being made.
"I think it's great," Shavney said. "It's obviously a reimagining of a restaurant space, but I like how bright and friendly it is in here. The food is amazing."