The lights dimmed over the audience as performers filled the stage. Children ranging from eight to 14 years old and wearing dark slacks or long black skirts with colorful collared shirts carried their instruments to their seats.
Sitting attentively before paper-covered music stands, the cacophony of last-minute tuning filled the room as they prepared to play for a crowd of parents, siblings and friends numbering in the hundreds. Audience applause replaced the warm-up as conductor Marta Zurad took the stage.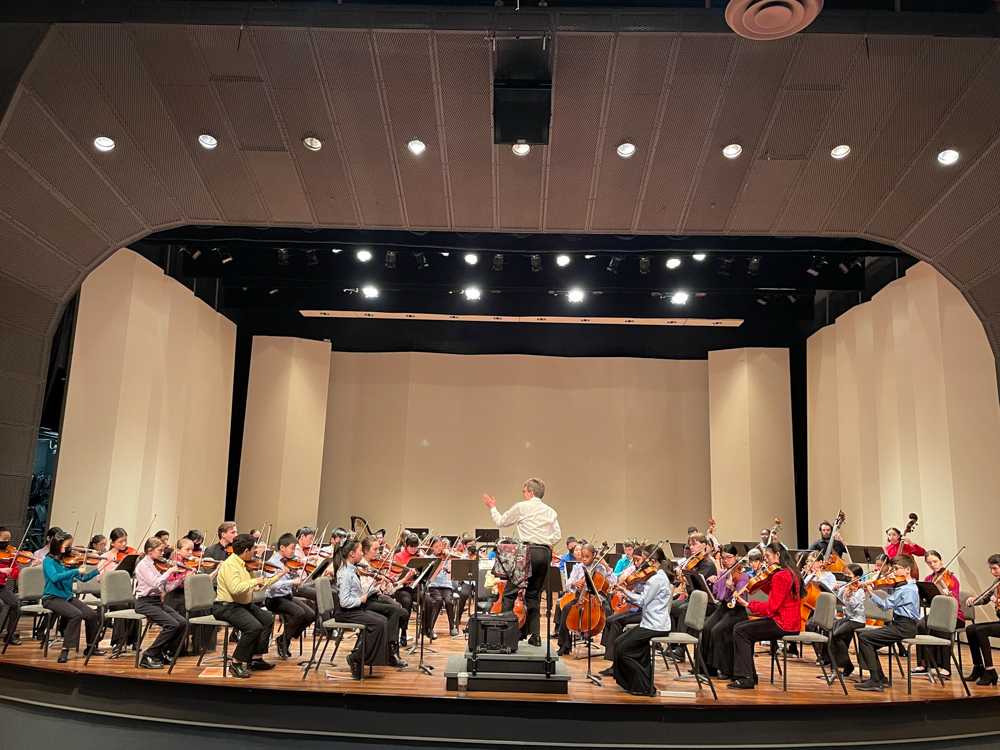 Zurad conducts the Young People's String Orchestra, one of two orchestras that performed in the Boston Youth Symphony Orchestras' Winter Concert at the Tsai Performance Center on Feb. 12. The Junior Repertory Orchestra also performed at the concert, conducted by John Holland.
Erin Keegan Ianni, the director of marketing and public relations at BYSO said that the mission of the youth orchestra is to provide "high quality orchestra training and performance opportunities to musicians, grade K-12" while also ensuring the program is "accessible to underserved communities through financial aid and outreach."
"The arts in general are hugely important in the lives of all human beings," Ianni said. "Providing the opportunities to everyone and anyone, I think, is what we need to do so that more people can have the experience of having music as a part of their lives."
Nina Slywotzky of Somerville, a former BYSO musician with familial ties to the orchestra, came to watch her niece play the cello.
"I think the rigor and the discipline displayed by the musicians is really impressive," Slywotzky said. "I think the pieces are really well chosen, in terms of providing a nice challenge to the kids."
She said she started coming to the concerts again when her nieces and nephews started to play with the orchestra. She said she enjoyed her experience when she was a musician herself.
"I loved playing with the group and I made some really, really wonderful friendships, which I still have," Slywotzky said.
Brookline resident Femi Obi's family has also been involved in the BYSO for several years. His daughter, YPSO cellist Adanna Obi performed in the concert.
Obi's 12-year-old daughter Adanna said she has been playing with the BYSO for eight years.
"I love it, I've been playing cello since I was born," Adanna Obi said.
Though YPSO is only for students who play string instruments, the BYSO trains musicians on other instruments as well. For example, JRO includes not only strings, but also winds, brass and percussion, according to Ianni.
Kate Kalleher of Hingham, whose daughter plays bassoon in JRO, said the "quality of these concerts always blows" her away.
"It's a great opportunity for the musicians to play with others who are dedicated to their instrument from throughout the greater Boston area," Kalleher said.
The impact that the BYSO has had on these families and others is why Ianni said she finds her job "extremely fulfilling" and "inspirational."
"What this organization has done and continues to do is something truly unique and special," Ianni said. "We have programmatic offerings that I think children otherwise don't have an opportunity to experience."
Ianni said she believes what BYSO does makes a real difference in many young children's lives.
"I mean, art brings beauty, and we all need that," Ianni said.