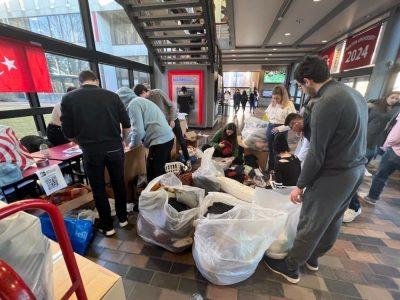 Local Turkish communities in Boston joined together to provide aid to those suffering in Turkey and Syria in the wake of devastating earthquakes.
Freerange Market, a Medford-based international grocery store owned by Cenk Emre, is garnering support from local communities toward relief efforts in Turkey and Syria. 
"We were just quick to respond …we started collecting more goods, more donations and it kind of grew exponentially for the first couple of days," Emre said. "We became, sort of the center for donation collections in the New England area." 
While Emre doesn't have any immediate family in Turkey himself, he is in contact with local support groups and Turkish families.
He said he knows several people whose families are currently in Turkey.
"I am very well connected to the Turkish community here," said Emre. "We have some news about people who passed, some news about people who are paralyzed or badly wounded and some people who are still waiting to be rescued." 
Since the initial hours of the earthquake, the Freerange Market expanded in size, donating four to ten truckloads of donated goods and working 24 hours a day.
"We're talking about 500 [to] 600 people, probably, on the ground here in Boston, just trying their best, absolutely, to help," said Emre. "A lot of people, a lot of us, want to do something beyond money."
Volkan Tayfur, a plastic surgeon and first responder conducting search and rescue operations in the province of Hatay, arrived within four hours of the earthquake. Tayfur provided medical assistance at a makeshift center.
"We decided as [the] plastic surgery association to go there and do our surgeries," Tayfur said. "I don't remember how many people I helped from all nations, because sometimes there are many refugees."
Denise Atay, an English teacher in Turkey, was in Turkey during the earthquake, but the city he was in only experienced the aftershocks. He said that a lot of "good, innocent people" impacted by the earthquake got mistreated and "disrespected" by the government.
Diversity in Turkey is present, but there is a large divide among Turkish natives and Syrian refugees that is sometimes amplified by politicians, Atay said.
"In this whole chaos, people use their platforms to spread racism, which just created even more problems for the ethnicities to the point where some of them were denied food, some of them were denied shelter, just because they were not Turkish … and it's heartbreaking," Atay said.  
Lenore G. Martin, a professor of Political Science at Emmanuel College, echoed the sentiment.
She elaborated on the history of natural disasters in the area and how it has affected the political climate.
"Tens of thousands of dead because people were corrupt," said Professor Martin. "People internationally are very aware of the enormous corruption, and they're very concerned about … where to donate internationally." 
Tayfur said the presence of nongovernmental organizations in Turkey could be "unbelievably successful" in alleviating damages. 
"What is needed today will not be needed tomorrow," said Tayfur. "So, what I think is very specific, nongovernmental organizations … should be supported."
The Freerange Market is a prime example of such organizations.
Volunteers and donations increased after the media coverage they received, with Emre stating that it has contributed to creating an "interesting community around the cause."
"We started a movement here …We have a common cause here and when that happens we're not divided," said Emre. "This is the first time in my 45 years of life that I have observed people get together and agree on every single aspect of a matter."