Boston University Police Department sent an alert to the BU community on Monday, Feb. 13 about recent fraudulent emails targeted at students and faculty.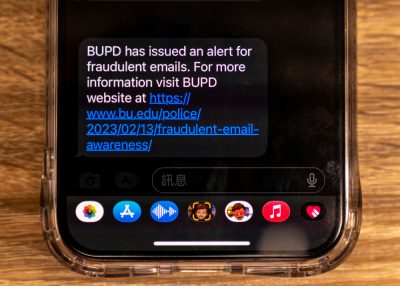 BUPD's email alert outlined what makes an email suspicious and provided advice about how to spot a fraudulent email.
"We are reminding everyone to be highly suspicious of any emails concerning job opportunities, apartment rentals, immigration status, or law enforcement actions," BUPD wrote. "These are phishing emails designed to entice or frighten individuals to send money, gift cards or electronic cash transfers."
BUPD said there are currently no suspects in the fraudulent email investigation.
Ken Weeden, platform services manager at BU Information Services and Technology, wrote in an email that recent fraud emails have been sent to "a large number of recipients."
"There was nothing specific to BU about the scam," he wrote. "These types of scams happen every day all-day across the internet."
Weeden wrote that BU has multiple layers of security in place to try and stop fraudulent emails and phishers.
"BU receives millions of messages a day through our email gateways and more than 70% of all of the messages received are blocked by the security software in these systems," he wrote. "Spammers and phishers continue to evolve their methods such that we cannot catch all of these scam messages without also blocking legitimate email."
BU Spokesperson Colin Riley said security breaches can occur within BU students' accounts if they interact with fraudulent emails.
Riley said students should not provide their personal information or banking information via email.
"Protect personal information." Riley said. "If gathered together [it] can be used by criminals."
This is not the first time BU students have been targeted by scammers. Throughout 2021, there were multiple reports of students receiving phone calls, phony job offers and emails from scammers looking for money or personal information, according to a Boston University Police Alert.
Itai Merlin, a freshman in the College of Arts and Sciences, said the recent fraudulent emails are upsetting. 
"Knowing how vulnerable kids are and students at [this] university, it's definitely disgusting to hear," Merlin said. "[Scammers] know that they can maybe take advantage of some students who are unaware of everything that goes on around here." 
Merlin said he understands how many BU students could click on an email that is said to be from the University. 
Julia Fulfaro, a sophomore in the College of Arts and Sciences, said she did not receive any of the fraud emails but is glad BU is warning students about them. 
Fulfaro said the situation is "alarming" and that students should be careful with what links they click. 
"It's definitely a little bit scary," she said. "With any situation like this you just have to be super careful and make sure you're only replying to emails or clicking on things that are from a reliable source."