A few days ago, I finally finished Hulu's "Normal People" after taking a long hiatus from watching the series. I had tried to binge-watch it back when it first aired but being freshly out of high school, I could not relate to the series and instead found it lackluster and dull. But with this second attempt, something changed — I grew up.   
The moment I began the show, I could not separate myself from the blue screen that showcased the poignant love story. The truth is, I finally understood why the series had been such a big hit: it was an authentic and raw display of what it means to be human, all through the exploration of a complicated love story.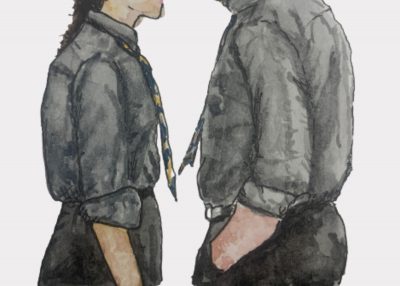 The show, an adaptation of Sally Rooney's novel, follows Marianne and Connell throughout their lives, from immature high schoolers to young adults striving to shape a future of their own. The plot does what the title suggests — it details what it means to be a normal human being — complexities and mess included. In essence, it underscores the layered beauty behind banal everyday life.
While some series strive to portray the human experience through rose-tinted glasses, "Normal People" does the opposite. If anything, the show brazenly rejects any sort of filters or creative limitations and instead opts for an organic coming-of-age storyline —  it is so uncensored that the show begins with an MA rating message because of the realistic display of intimate scenes. 
Both characters, connected through their romantic link, plow through their individual hurdles. 
Marianne begins as a nonchalant and unpopular high schooler who slowly falls into a self-destructive pattern as she struggles to love herself. Conversely, Connell grows from a taciturn and shy character into a man who grapples to express himself and suffers from regular panic attacks. 
Both are learning to navigate their role as adults and understand who they are and where they stand in the world. It is through the exploration of both complicated psyches that a love story slowly develops. 
Though polar opposites, Marianne and Connell surprisingly complement each other as their own support systems. Over time, Marianne teaches Connell to become more open with his feelings while Connell teaches her how to love herself. 
Still, this love connection, which seems to have a strong foundation, slowly crumbles in front of your eyes. It is dumbfounding to see a couple with so much love for each other constantly being pulled apart. 
But that's part of the show's authenticity: even though the pair loves one another earnestly, they also must contend with their individual paths as young adults, venturing into their unique career objectives and following their own dreams. It's a battle between idyllic love and fulfilling ambition — and ambition often wins. 
The elements might be there, patiently waiting to be arranged into a perfect romantic experience — but life's an endless frame with infinite options to shape your own future. For the couple, focusing on their relationship and shutting out the world around them just wasn't a part of their perfect picture. 
Marianne chose to remain in Ireland and focus on her own healing, while Connell had the opportunity to move to New York and pursue his dreams. Marianne and Connell's story is not only a contemporary one — where career ambitions and individual dreams are prioritized — it's also one with universal implications. 
But that's what makes the show so beautiful — it unapologetically displays what it means to be alive, because it's not easy. While we want to be assured with the notion that we can plan our future path, the honest truth is that we can't. More often than not, we will be faced with obstacles and unforeseen deviations that will force us to rearrange our plans in ways we never imagined.  
Graduating college in a few months, I find myself relating a lot to the complex characters — I also am still figuring out my identity and place in this world. It has been no easy feat, with constant job rejections and abundant social problems. But, as "Normal People" shows, that is life: complicated, messy, and a little disorganized.