"Ant-Man and the Wasp: Quantumania," the highly-awaited movie kicking off Phase 5 of the Marvel Cinematic Universe, comes out today.
The film stars Paul Rudd as Scott Lang, or Ant-Man, opposite Evangeline Lilly as Hope Van Dyne or The Wasp. The movie almost resembles a "Star Wars" and Marvel crossover because of the layout of the story, with alien worlds, exciting supporting characters and an ultra powerful new villain.
Rudd's performance is wholesome and relatable, just as we've seen from Ant-Man previously.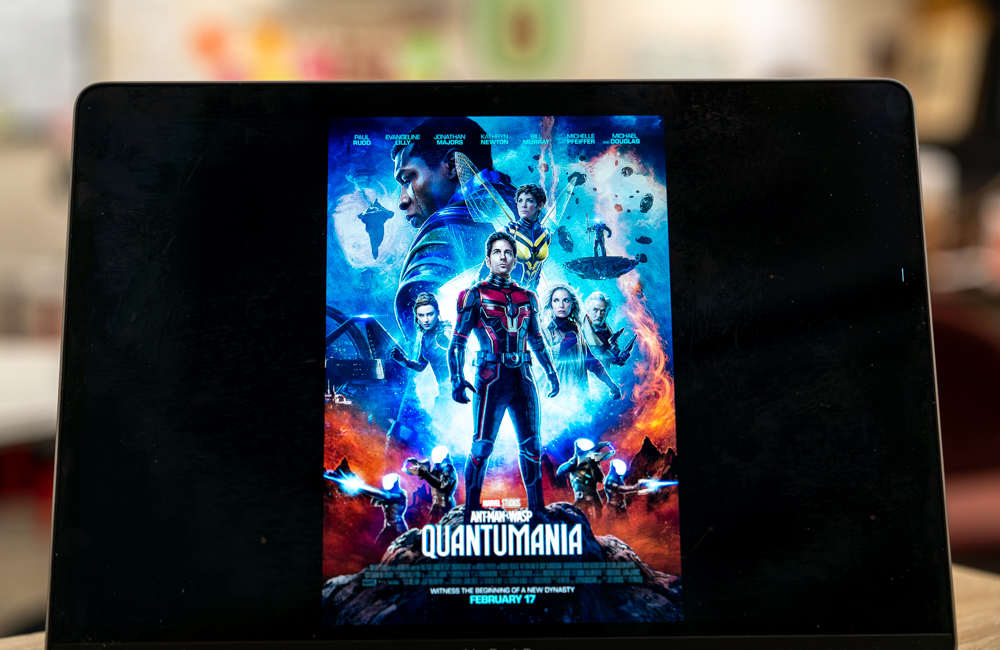 He starts off as a hero who doesn't know what to do with himself after everything that happened in "Avengers: Endgame."
This downtime isn't something we really see in Marvel movies, and it is a nice departure from the typical action-packed content.
We see him strolling down the streets of San Francisco trying to figure out what he should be doing as he begins to grasp life as a non-hero. As he strolls through, so many people around the city are so excited to see Ant-Man.
Part of where the film shines is how it fleshes out the relationships between Lang and those around him.
Saving the world did a lot for others, but he didn't do enough for the most important person to him, Cassie.
Lang writes a book called "Look Out for the Little Guy!" and dedicates it to his daughter Cassie. Lang was stuck in the Quantum Realm for five years, which led him to miss a large portion of Cassie's life. Now, he wants to make it up to her by spending as much time as possible together.
Cassie, a teenager now, has developed a passion for justice, and loves helping people. She has formed strong bonds with the Van Dyne/Pym family, which makes the film come to life.
Cassie also calls her dad out for not doing anything to help the people now, which ties into his dilemma about what to do with himself after Endgame. He's torn — should he choose a normal life or go back to saving people?
In the Quantum Realm, there is impressive animation and design, where there are many different types of creatures. Though the creatures seem to resemble organisms on Earth, Scott and Cassie are shocked to even learn that there is life in the realm.
In the beginning of the film, we learn about Janet's backstory and what she did during her 30 years stuck in the Quantum Realm. By fleshing it out, Janet's character becomes more compelling, resulting in the audience's view of her changing completely.
At times, the movie can certainly be overwhelming. Taking place primarily in the Quantum Realm, there are countless unintroduced beings and worlds and this makes the storyline a bit confusing and hard to follow, but for the most part, it's absolutely captivating.
The film takes a sci-fi angle, much like other MCU movies such as those in the "Guardians of the Galaxy" series. It's a complete change of pace from Marvel's last movie, "Wakanda Forever," which was deeply emotional.
"Quantumania," instead, focuses on Scott and Cassie's father-daughter bond, but ultimately how that relationship helps them fight the villain.
After watching "Quantumania," it's clear this new phase of Marvel is off to a strong start. With its new, compelling villain that could set the stage for future Avengers movies, and a focus on the multiverse/Quantum Realm, I look forward to the next films in the franchise.
"Quantumania" is filled with so much to keep viewers entertained — wholesome family relationships, visits to the Quantum Realm outside of space and time and classic Marvel animation and CGI. Great music and lots of funny moments tie together what should be an excellent start to an exciting new phase in the MCU.