The reigning Patriot League champion Boston University men's lacrosse team, is now 1-1 in the 2023 season. Senior attack Vince D'Alto had three goals in Saturday's thrilling overtime victory over the Bryant University Bulldogs.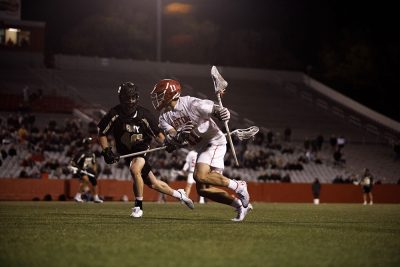 The Daily Free Press caught up with D'Alto earlier this week to discuss his journey to stardom with the Terriers and get a sense of his life off of the field.
Interview excerpts have been edited for clarity and brevity.
1. When did you start playing lacrosse?
I started playing lacrosse around fifth grade. My football coach, when I first moved to Long Island, showed me what the sport was, and I haven't looked back since.
2. Who is your favorite lacrosse player?
I've looked up to a couple of people. I would say Rob Pannell and Lyle Thompson. More Lyle Thompson because he's so creative. He just makes the game fun, and it's really exciting to watch him play.
3. What was your favorite sports team growing up?
Growing up, I was a huge Mets fan. I watched them my whole entire life. My dad's a diehard fan of theirs, so I've always repped the Mets.
4. What do you miss most about Long Island?
I don't know, man. Long Island's a great place. I honestly miss my family. I love seeing them. They always support me in everything I do and give me a lot of love, so whenever I get to see them, it really is a blessing, and I really do miss them.
5. What would your last meal on earth be?
Oh, man, that's a great question. I'm probably going to go with mom's sauce. I'm going to keep it classy here. Mom has a stove, and she can make a sauce. I'll go with that, no doubt.
6. If you could travel anywhere in the world, where would you go?
I would probably go to London. I'm a big Peaky Blinders fan, so after seeing that show, I've always wanted to experience London. Yeah, I think that'd be really cool.
7. What are you thinking when you get on the field?
I just try to stay as confident as I possibly can. Just remember it's a game, not to really stress out and just really go out there and have fun, and just play as hard as I can.
8. Do you have any game-day superstitions?
I really don't know. I'm one of those guys who just listens to the locker room music. I don't really listen to any type of music or anything. Whatever's playing I'll listen to. I just try to stay relaxed and crack some jokes with some of the guys.
9. Which game are you looking forward to most?
I'm actually really excited to see Lehigh again. I know they have a really strong team coming up. It was both a one goal game, both games last year. So I'm excited to see those guys.
10. Who is your funniest teammate?
Oh, there's a couple. Right now, I'd probably say Jake Cates. He's currently my roommate. He's one of the funniest guys I've ever met. He just keeps everything happy and exciting.
11. Who are your lockermates?
One is Matt Baugher and the other one is Matt Hilburn. Matt Hilburn's been a three-time captain for us. He's a great guy, and he's a person that I really appreciate and look up to.
12. What is your favorite thing about BU?
The city, man. One of the main reasons why I came here is just to explore the city. Both my parents both grew up in New York City, in Queens, so I wanted to experience kind of what their life was and what a city background was like.
13. What has been your hardest class so far at BU?
I mean, I'm in COM, so I really enjoy that. But the hardest class I can think of is CM 321. It was a big group project that me and my two classmates, Patrick Morrison and Conor Calderone, had to attack throughout the whole semester. So that was a little challenging, but it was a good challenge.
14. What's your favorite memory from your time at BU so far?
Winning the Patriot League Championship, no doubt. That was one of the best experiences I've ever had. Growing up I never really won anything, like any championships. My high school was not very good, so we didn't go to any championships or playoff games. Just winning that championship and bringing one home to the dogs was a really great experience.
15. What is your dream job?
I mean if we're dreaming big we might be going to MLB. No, I'm [joking]. But I'm currently looking into sales, in finance. I don't really know what I'm gonna do yet, so I'm excited for the future and what it gives me.
16. Do you have anything on your bucketlist?
Not really. I read a couple articles [from] you guys, and I know some people wanted to do skydiving or go and do something crazy. I'm a pretty simple guy. I don't really have anything on my bucket list right now. But I would say probably going to Europe, having like a Europe trip with my friends. I think that'd be pretty cool just to experience what it is around the world.
17. What is your favorite thing to do on an off day?
I love watching movies, I'm a big movie guy. My roommates and I watch a ton of movies. They can be anything. Maybe horror, rom-coms, action, whatever you want, yeah, we're watching it.
[The last movie they watched was "10 Things I Hate About You."]
18. If you could live in a movie, which one would it be?
Oh man, I would say "Harry Potter." I'm a huge "Harry Potter" fan. I'm a nerd for it. I think that world is pretty cool. Another movie actually would be "American Pie." I think living in the 80s/90s era would be super cool and fun and funky. So that too.
19. Is cereal soup?
Is cereal soup? Hell no. Cereal is a cereal. I mean, no. You don't heat up cereal. I feel like soup might have to be hot. I'm gonna go with cereal's not soup.
20. Advice to younger self?
Don't stress about things. Just relax and enjoy it while you can. Play as many video games as you possibly can. And maybe get that Wii bowling score up a little bit. That'd be cool.