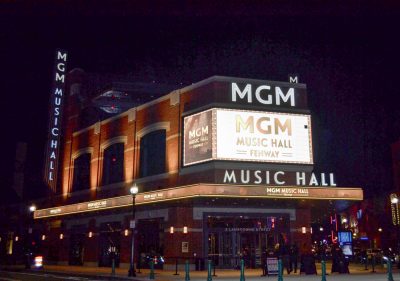 Esports has gained more attention in Boston after a tournament was hosted in MGM Music Hall at the beginning of the month.
Boston Breach, a Call of Duty League team, hosted "their first top-tier tournament," called Major 2, from Feb. 2 to 5, according to the event's ticketing site.
"There's a significant opportunity to bring more events into the city,"  said Murph Vandervelde, president of multi-title esports organization Oxygen Esports, which owns Boston Breach.
"It's such a vibrant, fan-centric city, but also there's a lot of great venues,"
Vandervelde has been involved in esports since 2017 when he and his brother co-founded Helix Esports. 
The idea to break out into the esports arena came along when the brothers played Overwatch and other games together when working in two different countries and realized the "huge social power" that comes with gaming and esports.
Vandervelde said the organization also wants to fill the gap in amateur competitive esports, creating a "local hockey rink for esports."
"By combining the two of giving people an outlet to first step out of their basement for competitive esports, but also as a social destination for esports, sort of drove the center of business that we started," said Vandervelde.
In Boston, Oxygen Esports hosts 50 to 60 small amateur tournament events a year in Foxborough, but the Boston Breach Call of Duty Major 2 tournament "was really the first large esports event in Boston in the last decade."
This summer, the Boston Breach team will compete in another unannounced tournament in Boston, Vandervelde said. 
Collegiate esports teams have also started forming in the Boston area, including teams at Berklee College of Music, Boston College and Northeastern University.
Zachary Allor, coordinator of esports and club sports at Northeastern, said he believes that the recent uptick in esports' viewership is largely owed to the COVID-19 pandemic.
"Esports [was] the only game in town," said Allor. "My previous university literally moved PCs into people's dorm rooms."
Boston is considered by Allor to not be a hotspot for esports, but the large college population in the city could aid in its growth.
"Esports demographic is almost a one-to-one match with the college-age demographic," Allor said. "There's a lot of interest here in the city and I think we're going to see a lot more of targeted events."
Gamers on the collegiate level also hope to see a greater rise in esports presence in Boston. Brendan Chow, a varsity Hearthstone player and fourth year student on the Northeastern esports team, said he believes esports gives more "connectivity" to the world.  
"I think it'd be cool," Chow said. "Having [tournaments] become more mainstream and more televised and more widely seen would just benefit esports as a whole…there's [also] a lot of revenue, so the more mainstream it becomes, the more it can start giving back to the world instead of just being a consumption kind of thing."
Allor said he believes esports is an "inclusive space" for people who may not be able to overcome the barriers that are required for traditional sports.
"I think at its best esports is what you hope sports is, which is something to do in your spare time that gives you an outlet to express yourself," Allor said. "A lot of people that may not have the chance, opportunity or skill to play traditional sports find a home in esports."