Kansas City Chiefs quarterback Patrick Mahomes led his vaunted offense to just seven points in the first half of Super Bowl LVII. He finished with just 182 passing yards, far short of his playoff average of 291.7 passing yards per game. He limped into halftime after a second consecutive offensive drive ended without points.
But when you're the best quarterback ever, the above facts are mere footnotes in your legacy. The greatest athletes — whether it be Michael Jordan, Tom Brady or Serena Williams — seem to get better as their odds worsen. This is exactly what happened as Mahomes emerged from the tunnel while facing a 10-point halftime deficit, a halftime deficit only overcome by one other quarterback in Super Bowl history: Brady. 
The Chiefs first three drives in the second half? Touchdown. Touchdown. Touchdown.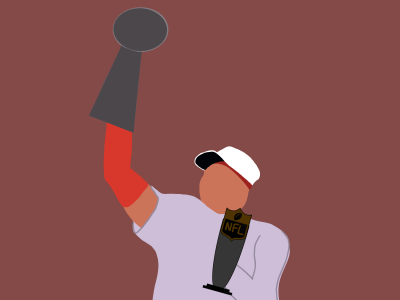 The final Chiefs offensive drive ended with a game-winning field goal with just eight seconds left. The only reason they opted for three points instead of seven was so that the Eagles would not have time to drive down the field to win or tie.
Mahomes was almost perfect in that second half, completing 13 of 14 passes with two touchdowns and no interceptions. And while he was pinpoint accurate on his passes, his best play was a 26-yard scramble — a scramble Mahomes completed on a sprained ankle. 
The 26-yard gain was enough to get his team into comfortable field goal range with the option of scoring a touchdown. Because when Mahomes is your quarterback, not scoring a touchdown is a choice. 
After Jalen Hurts's hail mary fell well short of the end zone, the Chiefs and Patrick Mahomes celebrated their second Super Bowl championship in four years. Mahomes was named Super Bowl MVP, adding another accolade to his resume after being named the 2022 regular season NFL MVP.
Mahomes's MVP award and Super Bowl championship this season have additional significance, because he became the first quarterback since Kurt Warner to win MVP and the Super Bowl in the same season. 
But perhaps the most exciting aspect of Mahomes's success is how quickly his success has come. In his first five seasons as a starter, the 27-year-old quarterback has: won about 80 percent of his regular season and postseason games, hosted five straight AFC Championship games, thrown for almost 25,000 yards and 192 touchdowns to 49 interceptions, won two regular season MVP awards and been Super Bowl MVP in each of his two Super Bowl victories.
No quarterback through his first five seasons has anywhere close to the above accomplishments. He is undoubtedly the league's best player, and the only people he has yet to surpass are legends like Peyton Manning, Joe Montana and Tom Brady. Football fans should stand in awe and appreciate that we might be in the middle of watching the greatest player ever. 
He's every bit the pocket passer that Manning or Brady ever was, and his mental acuity and football intelligence evince themselves well enough in the pocket, but the real magic happens when he gets outside the tackle box. 
When Mahomes rolls out of the pocket, he can fire the ball 60 yards downfield, tuck the ball and run or use that extra time to let his receivers get open for an easy completion. He is the best scrambler since Fran Tarkenton and is nearly impossible to sack after he rolls out. His evolution continued this year when he learned to play more conservatively after losing his No. 1 deep threat, Tyreek Hill, in the offseason.
Adding to his skill, grit, character and intelligence is what he means to an entire generation of young fans who are growing up with Patrick Mahomes as the best player in the NFL. This is the first generation of NFL fans that will have grown up in an era dominated by a Black quarterback. 
Two Black starting quarterbacks have won the Super Bowl: Doug Williams and Russell Wilson. Others have won the MVP award: Cam Newton, Lamar Jackson and Steve McNair. Mahomes is the only Black quarterback to have won both. If he continues on his trajectory, he will retire as the greatest quarterback to ever play.
He is an example to an entire generation of young Black football players who can point to Mahomes and tell themselves and their coaches what has always been true: "the quarterback position is also for people like me."