"It's the trend of violence in Boston …. We wanted to find a way through the arts [to] speak to that," said Dan Carman, the communications director and CFO of Cooperative Metropolitan Ministries (CMM).
Boston University's Marsh Chapel held the International Choral and Arts Festival on Feb. 14, sponsored by CMM, for a healing night of powerful voices. CMM is an educational research organization that aims to unite people of various faiths.
"Art itself can be the catalyst for communicating [revolution]," said Ivy Ngugi, one of the performers at the concert.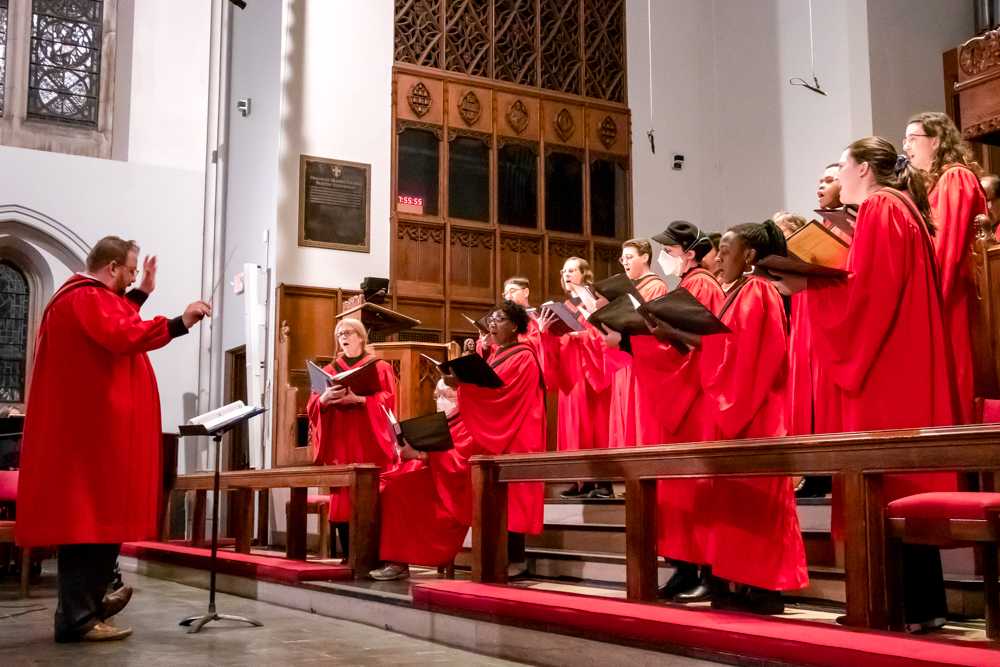 The concert featured choral performances, poetry recitations and instrumental performances from local religious groups in the Boston area.
Tuesday's showing was the concert's first iteration since the Covid-19 pandemic began. The festival was once a traditional event for the community organized by the Boston Theological Institute.
CMM chose to resurrect the event, now with one common theme — the rise in gun and domestic violence in the Boston area.
For Carman, it was this "troubling" trend of gun violence that pushed him to host this event.
East Boston High was put on lockdown last week due to a call about a person with a weapon near the school. This event followed the fatal shooting at Michigan State University.
"What better way to respond than through the transcendent and transformative power of music?" Carman said.
Rev. Chad Kidd, director of BU's School of Theology Seminary Singers, believes "music can change."
"We're focusing on love," Kidd said. "We're trying to eradicate gun violence in our community, and also thinking about peace and justice."
Kidd said he believes music is "something to hold onto."
"I always kind of joke with people that I've never met anyone who doesn't like music, so it is, itself, a unifying factor," Kidd said.
Ngugi recited the poem "Hope" by Euphrase Kezilahabi in Swahili and English at the event.
While the poem reflected its title, Ngugi said hope is a "gradient."
"Hope can be optimistic and it can also be pessimistic," she said. "It's also like, 'how dare I be hopeful in the face of this?' And sometimes you find yourself still hopeful."
Ngugi's professional career as a peer leader for Black Girls Rock pushed her to participate in anti-violence activism.
In 2020, Ngugi was involved with Building Audacity, a non-profit that supports young adults in change-making, and helped create a public art installation that addressed victims of gun violence.
Sarah Coffman, a vocalist and cellist at the festival, said she has found music to be one of the "strongest ways of building community."
"Once you know how powerful it is to make music with other people, it's hard to settle for less in other parts of your life," Coffman said.
By the end of the night, the congregation stood up and sang "This Little Light of Mine" in unity.
"Whether you're at Bonnaroo, Lollapalooza or whether you're in Marsh Chapel, we sort of find ways of being together and connecting and feeling something transcendent," Carman said.