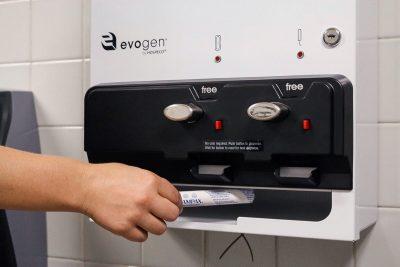 The Mayor's Office of Women's Advancement and Advocacy is beginning a pilot program that will provide free menstrual products in city buildings in the coming months.
District 1 City Councilor Gabriela Coletta recently refiled a hearing order to push for the Mayor's Office of Women's Advancement to consider including contraceptives, such as Plan B, commonly known as "morning after pills," in the program. Coletta originally filed the hearing order in June, after the U.S. Supreme Court overturned Roe v. Wade.
"I look forward to working with the Office of Women's Advancement to talk about the work that they've done in the last couple of months and getting this hearing on the books at least before March," Coletta said in the refiled hearing on Jan. 11.
More than two in five people who menstruate have said they struggled to afford menstrual products at some point in their life due to economic constraints, according to a 2021 survey done by Kotex.
"During a climate where we see successful attempts at restricting access to abortion, making emergency contraception available on demand is part of centering health equity and health justice, and it should be a priority," City Councilor At-Large Ruthzee Louijeune wrote in an email. Louijuene co-sponsored the hearing.
Local universities have already started putting Plan B vending machines on their campuses, including Brandeis University, Northeastern University and Boston University.
"We have already seen colleges across the Commonwealth take the first step, so we know it can work," Louijeune wrote. "This shift would be a crucial first step in starting the much needed dialogue around the need for contraceptives."
Northeastern University's reproductive rights organization, NU Share, helped provide free menstrual products on its campus, and its wellness vending machine sells emergency contraceptive pills for $7, when Plan B pills usually retail for up to $50. 
Brooke Shiley, Northeastern sophomore and external outreach coordinator at NU Share, said free menstrual products and affordable emergency contraceptives would benefit people who live in underserved communities and young people.
"I think that contraceptive access is more important than ever," Shiley said. "Even though Massachusetts is a state where abortion is fairly accessible, there are people who have more trouble accessing abortion should they need it."
Period poverty, or low income persons' struggle to pay for menstrual products, affects roughly 16.9 million people in the United States, according to the Planned Parenthood New Hampshire Action Fund.
"Free public access to menstrual products and contraceptives breaks down barriers to care and fights stigma around sexual health," wrote Nate Horwitz-Willis, executive director of advocacy fund at Planned Parenthood League of Massachusetts, in a statement.
Horwitz-Willis wrote that improving access to reproductive health care will benefit low-income communities as well as trans communities, who will be able to get these products anonymously. Planned Parenthood currently provides emergency contraceptives to those with and without insurance.
There is no publicly set start date on the Mayor's Office for Women's Advancment's pilot program, although it is slated to begin in the coming months.
"It would be great to see those products going into places where there are more young people, like public schools," Shiley said. "But if they are in government buildings that are accessible to the public, just the wider the access can be, I would say the better."