"Speak Your Truth," a social event hosted by the Howard Thurman Center, brought students, faculty and staff together to share their experiences and thoughts on diversity last Thursday. The Faculty and Staff of Color Community Network, Howard Thurman Center and BU Office of the Senior Diversity Officer co-hosted the event, which included spoken word poetry.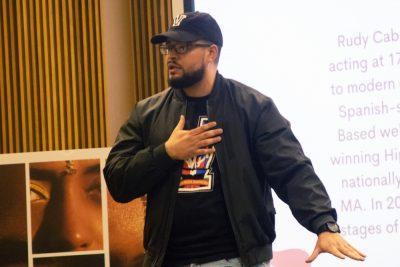 The event was headlined by actor and poet Rudy Cabrera who performed six poems covering topics such as hip hop, gun and drug violence, gentrification, as well as personal and cultural experiences.
The Faculty and Staff of Color Community Network (FSCN of Color) is chaired by Moddie Linen, who, before the event, said he thinks BU does an excellent job promoting diversity and inclusion on campus because of support available to communities of color.
"Having employee resource groups [like Boston University's] are an advantage and the added support needed so folks can feel like they belong here and they can advance here at BU," Linen said.
Vice chair of the FSCN of Color, Rachael Kelley, said she hopes the "Speak Your Truth" event helps people of color to feel comfortable and speak freely on campus. 
"My hope is that people of color in BU and in their workspaces get comfortable, become confident in speaking their truth, no longer feeling like they have to be a different person at work, that they have to code switch and that you can't bring your full authentic self to your role, because at the end of the day, that's where creativity lies," Kelley said.
Kelley said she has seen improvements in diversity on campus specifically when it comes to the University's acknowledgement of where it may lack diversity.
"[BU] will openly communicate areas in which they lack diversity and they will actually make strides to bridge that gap," she said.
Actor and poet Rudy Cabrera said he loved coming to BU to share his work.
"This was so much fun for me, Cabrera said. "I love stuff like this, building, connecting, sharing stories, channeling words, I love it all."
Cabrera said events like "Speak Your Truth" help people understand "deep rooted problems," and how to end them.
"Diversity in general is something … you have to commit to and you have to invest in … it's not something that takes care of itself just overnight," Cabrera said, "It starts with events like this, inspiring people."
Sabrina Heron, a freshman in the College of Arts and Sciences, said she thought Cabrera's poems were "powerful and relatable."
"[This event] definitely is an eye opener to what is available at BU, especially because it's Black History Month," Heron said.
Carla Gualdron, communications manager for the Office of the Senior Diversity Officer at BU, said her office partnered with FSCN of Color to organize the event in hopes to create connections between faculty and students of color on campus.
"For the students that were at this event today, I want them to see faculty and staff that look like them so that they're like, 'Oh, okay, that can be me one day,'" Gualdron said. "That's really important and powerful."