Professional basketball is a fun sport. It's an engaging, thrilling game that requires excellent communication, teamwork and effort in order to achieve success. Every play must be extremely well-thought out for it to work and it must be equally well-executed. Players train their entire lives just for the chance to earn a roster spot. There's no room for error, and that's what makes it so intense and fun to watch.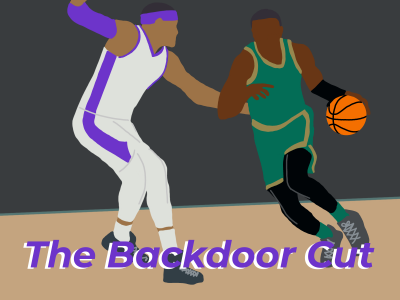 This past weekend, the National Basketball Association took its annual break from all of that to host the 2023 NBA All-Star Weekend.
Don't get me wrong, nobody expects playoff-caliber basketball during All-Star Weekend. I'd argue that part of its charm is how little it takes itself seriously. But if you didn't travel to Vivint Arena or tune into TNT to see some really impressive aerial shots of Utah's mountains — and sometimes basketball — this weekend, you didn't miss much.
The first event of the weekend was Friday's All-Star Celebrity Game. This year's teams were captained by Ryan Smith, governor of the Utah Jazz, and Dwyane Wade, best known for being a minority owner of Smith's team. This year's game was quite fun, with several neat gimmicks like the four-point line and Richard Jefferson becoming the first referee to ever play in the same game he officiated. Tim Donaghy is currently screaming into a pillow as we speak.
However, Seattle Seahawks wide receiver DK Metcalf stole the show. Metcalf scored 20 points and threw down some inconceivable dunks, proving he's more than worthy of being named the NFL's most recent drug test recipient. His 20 points were enough for Team Dwyane to win the game, and he was rightfully crowned its MVP. 
Afterward, the Rising Stars game took place. This game pitted four teams of seven rookies, sophomores and G-League players against each other in a tournament-style competition. The teams were captained by former NBA stars Pau Gasol, Deron Williams, Joakim Noah and Jason Terry. 
New York Knicks guard Quentin Grimes had a memorable performance, scoring 13 points in the final game. Yet, it was New Orleans Pelicans guard Jose Alvarado who stole the show, scoring 13 points in the first round. Alvarado also drained the game-winning shot in the finals, enough for him to win the Rising Stars MVP as his teammates celebrated their victory.
The festivities resumed on Saturday night with the Skills Challenge. Three teams of three players competed in a relay-race-obstacle-course-shootout-thing, and whoever had the most points at the end of it won. 
The three teams included rookies, Jazz players and Antetokounmpo brothers. The rookies were led by Paolo Banchero, Jabari Smith Jr. and Jaden Ivey. The Jazz sent Jordan Clarkson, Collin Sexton and Walker Kessler, and the Antetokounmpos sent Thanasis Antetokounmpo, Alex Antetokounmpo and Jrue Holiday Antetokounmpo. The rookies got off to a great start but choked in the final shootout to give the Jazz the victory in front of their home crowd. 
Up next was the 3-point competition which featured seven of the league's best shooters and Julius Randle. Pacers guard Tyrese Haliburton scored 31 points in the first round to tie a 3-point contest record, but he ultimately lost in the final round to Portland's Damian Lillard — who won the award wearing a custom "D.O.L.L.A."  jersey from Weber State University, his alma mater. It was a very fun contest, as it usually is.
Wrapping up Saturday night was the Slam Dunk Contest. The bar was set very low after last year's mess, but the participants did not disappoint. Houston's KJ Martin had a nice dunk assisted by his father Kenyon Martin Sr. — an NBA legend himself. 
New York Knicks center Jericho Sims made an elbow dunk before taking an envelope off the net, opening it up and revealing an original copy of the United States Constitution. I'm kidding. Inside was a note that read "50," a score he did not receive. Pelicans forward Trey Murphy III showed off his underrated hops as well and earned a spot in the final round.
The undisputed winner of the contest, and probably the winner of the entire weekend, was Philadelphia 76ers two-way guard Mac McClung. McClung had never really found a role in college or the NBA, bouncing around from team to team in both leagues. But, ever since high school, McClung was well-known for his incredible dunking ability. 
He finally got the chance to perform on the biggest stage of his career, and he did not disappoint. McClung hit four of the most impressive dunks ever seen, including a 540° dunk. Even more impressive is that all of his dunks were made on the first attempt.
The weekend concluded with the All-Star Game on Sunday. For the first time, the NBA held a live draft led by captains LeBron James and Giannis Antetokounmpo to determine the rosters just moments before tip-off. Despite not being a captain for a couple of years, Antetokounmpo showed off his drafting skills by picking Grizzlies guard Ja Morant during the selection of the reserves. Morant was designated as a starter.
The actual game was nothing to write home about. Not a lot of defense was played, and Team Giannis had already won before the fourth quarter started. LeBron lost his first All-Star Game in the All-Star Draft era, thanks in large part to Jayson Tatum scoring an All-Star Game record 55 points on his way to winning the game's MVP. Tatum captivated the audience near the end of the third quarter with a series of 1-on-1 matchups against Celtics teammate Jaylen Brown.
That game concluded a very thrilling All-Star weekend. We got some viral moments, memorable stories and the birth of a dunking legend. Only time will tell if next year's All-Star Weekend will live up to this year's festivities or even take it to new heights.